Oscar winning documentary filmmaker Laura Poitras has a new film. It's about Julian Assange, the WikiLeaks founder. She was at the Cannes Film Festival previewing it this week.
In case you do not know who Laura Poitras is, she is the documentary film maker who Edward Snowden first contacted when he was seeking a journalist to publish NSA secrets in 2013. Laura later was overshadowed by The Guardian newspaper reporter Glenn Greenwald who Snowden contacted after her. Greenwald, who initially ignored Edward Snowden, became more famous, no doubt because he works for that large newspaper and got a large audience for his articles. But both served equal roles in getting Snowden's work published.
Greenwald and Poitras flew to Hong Kong to meet Snowden. The rest is history, with which you are no doubt well aware.
Laura's film about Edward Snowden is called "Citizenfour." It is a minute-by-minute account of that meeting in Hong Kong and the successful effort by the journalists to get Snowden's documents published and keep Snowden by being whisked away from the Americans and hauled off the jail. Although Snowden as a former CIA and NSA employee had more knowledge about how to avoid that than they did.
Julian Assange is Still Holed Up in the Ecuador Embassy
Whisking away and hauling off to jail is what the Americans want to do to Julian Assange. His crime, they say, was to publish the military secrets leaked by Private Chelsea Manning. Private Manning has undergone a transexual transformation, which gives him something to do, as he is serving a life sentence, buried forever in an American prison.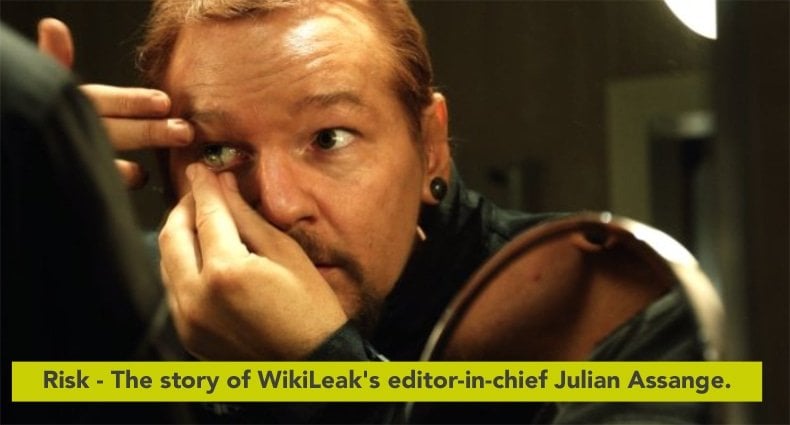 When Julian Assange came onto the radar of American law enforcement he fled to friendly ground, the Ecuadorean embassy in London. There was talk of Ecuador giving political asylum to Mr Assange. But Vice President Joe Biden flew down to Ecuador to presumably warn their president that any effort to do so would jeopardize Ecuadorian imports to the USA. The USA is Ecuador's major market for oil, bananas, frozen farm-raised shrimp, and cut flowers.
Assange cannot step outside the Ecuadorean embassy where he was been holed up for 4 years because the British would hand him over to either the Americans or Swedish. The Swedes want him on a criminal complaint for alleged sex crimes.
WikiLeaks says that he has "not seen the sun for 4 years" and is being denied medical treatment by the British. He is obviously a prisoner there.
The New Julian Assange Movie: Risk
There has already been a movie made about Julian Assange. It's called "Underground." Assange says it is a distortion of the truth of WikiLeaks founding. In the movie he is shown to be manipulative, bleaches his white hair white, and betrayed his co-founder and ex-friend.
The new movie "Risk," also tells the story of Julian Assange. But this is a documentary and not a fictional account. So it stars Assange himself. It has not been released to the public yet.
However critics have seen the film and have written some reviews.
The Hollywood Reporter critic Deborah Young says that this film is not just a biography. It is an ominous "warning against the immense threat posed to civil liberties by unchecked electronic surveillance in the name of security."
But it could be more interesting she says. Compared to other movies, she says that "Poitras' urgent but precise, unflappable tone lacks the flamboyant showmanship of Michael Moore and Oliver Stone, who draw audiences into their value systems through provocation and controversy."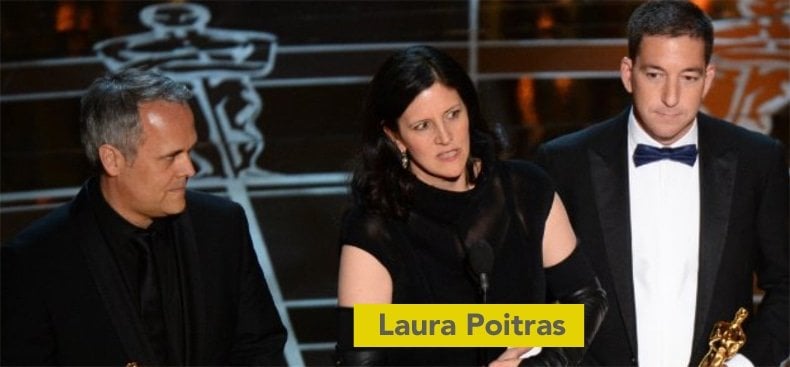 The Los Angeles Times says that this Poitras produced this film and not just directed it because now she wants to be an entrepreneur, putting this and other films online at the for-profit website Field of Vision. (Documentary filmmakers need something like this to monetize their movies. You can watch Citizenfour online, albeit for free, at Documentary Heaven here. Michael Moore will create a movie for Field of Vision as well as the creator of "House of Cards." That second statement is not entirely genuine, as the original "House of Cards" appeared on the BBC as a 3 part series. You can see it on Netflix.)
Laura Poitras Also on the Run
Laura Poitras is an American, but she is staying away from the American authorities. They are not pleased with the film she made on the War in Iraq called "My Country, My Country" nor with her work with Edward Snowden. The second is obviously more serious in their eyes.
Rotten Tomatoes says "The film reveals the agonizing predicament and gradual descent of one man caught in the tragic circumstances and contradictions of the U.S. occupation of Iraq and its effort to spread democracy in the Middle East on the eve of the controversial January 2005 elections."
Laura says she is harassed each time she passed through an American airport. So she moved to Berlin in 2012. The Americans also put her on the Terror Watch list. All of this harassment was prior to her involvement with Edward Snowden. She has made in all 3 films on 9/11 and terrorism.