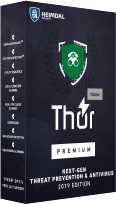 Works with: Windows 7 (32-bit and 64-bit), Windows 8 (32-bit and 64-bit), Windows 10 (32-bit and 64-bit)
Heimdal Thor Premium HOME offers a fully functional 30 days trial.
Heimdal Security's latest offering, Thor Premium HOME, is advertised as a next-gen anti-malware solution that ticks all the boxes. While it is never good to just blindly accept a company's claims, this article looks at the product as a whole and some of the key features that show this product lives up to expectation. Although a new product, been released in late August 2018, Premium Home has already garnered a 2018 Computing Security Award and a five start Trust Pilot rating. The review that follows will analyze some of the key features, accessibility, and ease of use, performance, and cost in determining the true value of the offering.
Updated for Better Protection
Those familiar with Heimdal and their past range of products may be asking what happened to Heimdal Pro. Pro has been renamed Thor Foresight and offers all you've come to expect from the brand. The company has further added Thor Vigilance to its offering which scored an impressive 100% malware detection rate in testing. While Home Premium offers both Foresight and Vigilance in one package. Without doubt then Home Premium is Heimdal's flagship product offering both Foresight's proactive protection and Vigilance's reactive protection. One question remains to be asked was there a need to overhaul the product range and add new products?
The simple answer would be yes. Given that malware authors are always trying to outdo themselves and create malware which is harder to detect, more pervasive and persistent, and in general nastier than previous variants, there will always be a need for security firms to continually up there game. With the advent of second-generation malware security firms responded with the creation of next-generation anti-malware software. That is a lot of jargon to sift through but simply put newer malware variants are harder to detect and thus harder to remediate. The next-gen anti-malware software incorporates newer technologies like machine learning to offer greater protection. The protection offered by such a product needs to be both proactive and reactive. Is Home Premium then such a product?
Key Features
Cost may be a determining factor in purchasing an anti-malware product but the most important factor is how the product protects your PC and potentially your data, money, and personal information. In that regard, Thor Premium HOME excels. According to the company the product defends against ransomware, data leakage, viruses, advanced persistent threats, exploits, and other advanced online threats. It does so in a number of unique ways.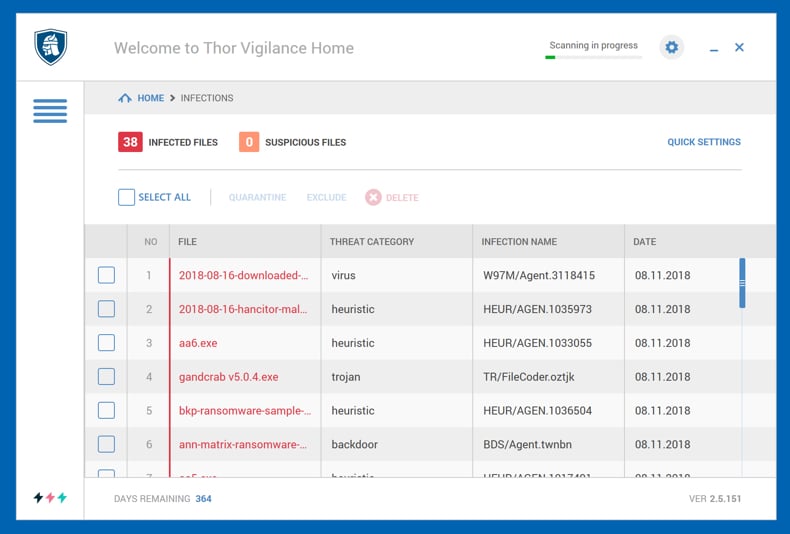 The first feature that deserves mention is Darklayer Guard which actively monitors and filters internet traffic. By monitoring and filtering the HTTP, HTTPS, and DNS layers essential to the working of the internet Darklayer Guard effectively protects against payload and malware delivery, execution and data exfiltration. More traditional anti-malware packages only offer a single layer of protection. While Home Premium does what a traditional anti-malware program should do, modern threats need an added layer of defense. This is what the Darklayer Guard provides and designed to block malware infections before they are installed on the targeted system. In order to do this, the Darklayer engine works by changing the Domain Name System (DNS) from IPv4 and IPv6 to a different address to actively block a malicious web address.
A feature that goes hand in hand with Darklayer Guard is Heimdal's Vector N Detection. This is probably best described as Home Premium's malware engine which analyses potentially malicious code to detect and block attacks. This proves very effective at blocking ransomware attacks as well as other types of malware. Like with the Darklayer Guard Vector N Detection proactively detects and blocks second generation malware. Interestingly all websites visited by the user are scanned and verified using Heimdal's database. Together Darklayer Guard and Vector N Detection use machine learning technology to perform an in-depth analysis of all incoming and outgoing HTTPS, HTTPS, and DNS traffic.
In order for threat actors and other cybercriminals to gain access to a targeted system or device they often rely on exploiting software vulnerabilities. To help mitigate this threat Heimdal created X-ploit Resilience which works as an automated vulnerability management tool. The tool works by automatically applying available updates for software and apps, thus eliminating any security-holes as a result of third-party software. One of the bonuses to this feature is that updates and patches are ready to be downloaded and installed approximately four hours after release. Many anti-malware offerings offer a similar feature, however, when one considers the number of security layers offered by these three features together it is little wonder the product achieved a 5-star rating from trust pilot.
Foresight vs Home Premium
Those familiar with Heimdal Pro will be familiar with the features listed above. These features are included in the newer Thor Foresight package. The obvious question then to consumers is why pay the extra for Home Premium? As mentioned above Home Premium includes Thor Foresight and Thor Vigilance. As to the features of Vigilance, these can best be described as the features you would have come to expect from a reactive anti-malware offering. Features such as local signature and file-based scanning, real-time cloud scanning, sandbox, and backdoor inspection, and behavior-based scanning.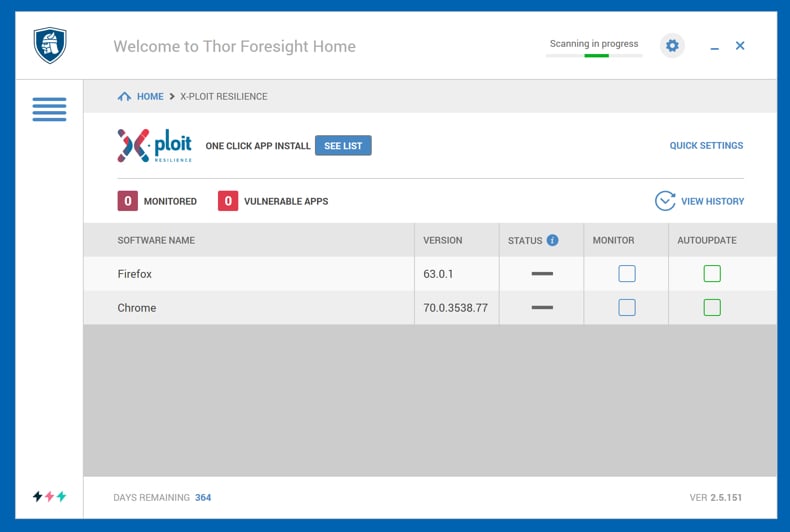 These offer a more traditional layer of security but one that should not be underestimated. Been able to scan removable drives can save much heartache further down the road. With the advent of cloud computing and its increased popularity been able to protect such services will become a more vital part of any anti-malware offering. It is good to see Heimdal been ahead of the curve in that respect.
The question as to whether Home Premium or Foresight should be chosen leads neatly into costing. According to Heimdal's website Foresight costs 44.96 EUR for one year but that does include three licenses. Vigilance is 37.46 EUR and like Foresight it is for one year and includes three licenses. Home Premium, given that it is a flagship product is more but not by much. Home Premium weighs in at 67.46 EUR and like its siblings is for one year and includes three licenses. The pricing of Home Premium is more than competitive when you consider a lot of the competition charges in excess of 120 EUR for flagship products. All considered, and depending on the endpoint consumer's requirements, Home Premium seems like the obvious choice.
Ease of Use
Downloading and installation of Thor Premium HOME could not be easier. Once this is complete users will be redirected to the Heimdal agent. It is from here where scans can be done, as well as third-party updates and the toggling on or off of the other features listed above. Use of the agent is incredibly intuitive and one is not bogged down with option paralysis that many similar offerings provide. Where other have numerous buttons, toggles, and options readily on display the average user just wants to know that they are protected against malware.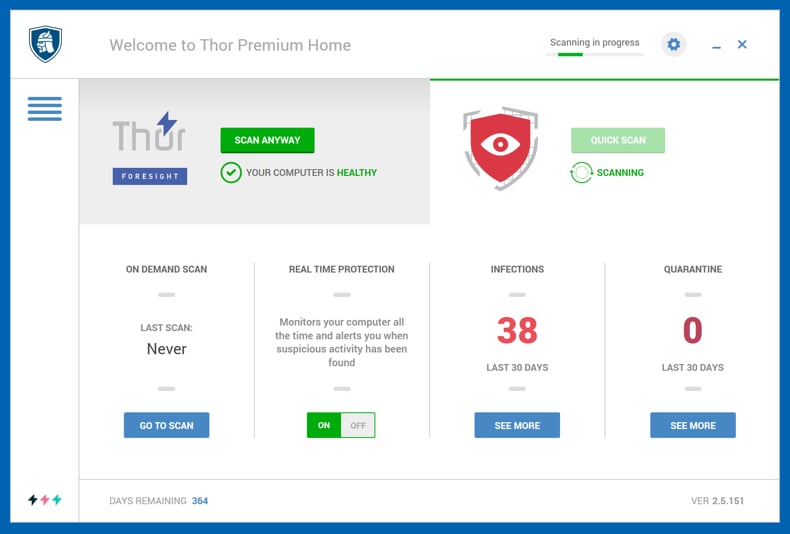 This is where the user interface of Thor's products excel. On the home page, one can see instantly how many attacks Darklayer Guard has prevented. Also, the Vector N Detection and X-ploit Resilience inform users if any action needs to be taken. For those who are not a fan of the white theme, this too can be changed. A minor thing to be honest but it does indicate Heimdal's approach to accessibility and ease of use.
Performance
On the test system, Thor Premium HOME had no discernible impact on the overall performance of the machine which is a mid-range spec laptop used mainly as a workstation. The initial scan took about double the length of time subsequent scans took. As to actively seeing the anti-malware protection in action for the period of three days the product has been installed the Darklayer Guard prevented three attacks, while the targeted processes feature detected two instances of a targeted process.
Given the functionality of the product while not having a discernible effect on performance there is little to criticize. The product is truly lightweight as advertised. Its system requirements are negligible when considering modern PCs. Those requirements have been the machine requires Windows 7, 8, 8.1, or 10 to be installed, access to the internet, and 25mb of free disk space.
Conclusion
Heimdal's Thor Premium HOME is an excellent choice for any user looking to secure their PC. The multi-layered approach to security leaves little to be desired. The products price point is truly exceptional for the sheer number of quality features provided. Some may be quick to point out the lack of a VPN but in many instances, the flagship products of other brands offer a subpar VPN. In these instances, one might feel the product should just ditch the VPN. Rather than looking to stack tool upon tool Heimdal has provided tools that are focussed on security. With Home Premium, Heimdal appears to be taking on the bigger players like MacAfee and Bitdefender and doing a good job of it by providing a no-frills quality product.