Monday, 21 November 2011 16:13 | Written by
Tomas Meskauskas
|
Best Antivirus removal instructions

Best Antivirus is a scare-ware that is distributed using misleading methods. When installed on your computer Best Antivirus will run a scan and will state that your browsers ad-dons are unsafe. The truth is that this bogus program detects all ad-dons as being unsafe. This is the tactics used by Internet criminals to scare you into purchasing their fake program called Best Antivirus. When Best Antivirus is installed on your computer you will be constantly reminded that you have to register and pay 42,29$ in order to remove the found unsafe ad-dons. You shouldn't trust Best Antivirus - it's a poorly designed scam which is designed to scare computer users into purchasing it's fake licence. If you have already bought Best Antivirus you should contact your credit card company and dispute the charges explaining that you have been tricked into buying a fake computer security program. Remove Best Antivirus from your computer.
Main window of Best Antivirus: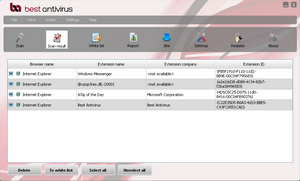 Best Antivirus will display such warning messages: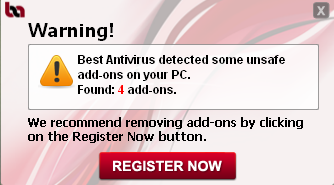 Best Antivirus removal

1. Locate Best Antivirus in your operating system's Add/Remove Programs section and remove it.
Windows 7 : Control Panel -> Programs and Features
Windows XP: Control Panel -> Add/Remove Programs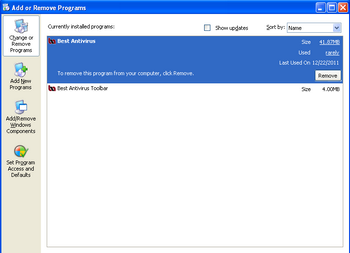 2. After removing this fake computer scanner be sure to download a legitimate antispyware program and scan your computer.
By downloading any software listed on this website you agree to our Privacy Policy and Terms of Use. We are affiliated with anti-virus and anti-spyware software listed on this site. All the products we recommend were carefully tested and approved by our technicians as being one of the most effective solutions for removing this threat.
Additional information:
Some malicious software modifies browser settings and disables downloads of spyware and virus removing software. If you have problems downloading anti-spyware software with Internet Explorer, try downloading with Chrome, FireFox, Opera, etc.
If you can't access Internet:

Load your computer in safe mode. Click Start, click Shut down, click Restart, click OK. During your computer starting process press F8 key on your keyboard multiple times until you see Windows Advanced Option menu, then select Safe mode with networking from the list.

Start Task manager. Press ctrl+alt+del (or ctrl+shift+esc) and end task the processes of rogue program. ( if after this procedure you can't access any programs press ctrl+alt+del, click File, select New Task, and type explorer.exe then press OK.

Open Internet explorer, click Tools and select Internet Options. Select Connections, then click LAN settings, if a Use a proxy server for your LAN is checked, uncheck it and press OK.

After this procedure you should be able to access Internet. Now you can download anti-spyware software from our "Top spyware removers" section and run a full scan. Download, install and don't forget to update your selected anti-spyware program. Then run a full system scan.
Additional information on removing Best Antivirus:
*If you can't download anti-spyware software: Click on the download link, when the save dialog opens change the file name (example: when downloading mbam-setup.exe rename it to iexplore.exe).
*If you have installed anti-spyware program but you can't run it: Click Run, type %ProgramFiles% and press Enter. Open folder of your anti-spyware program, search for executable file and rename it. (example: Open Malwarebytes' Anti-Malware folder, right-click on the main executable file (mbam.exe) then click rename. Rename the mbam.exe file to iexplore.exe, winlogon.exe firefox.exe ...
*If you can't access your anti-spyware software, try creating a new user account:
Click Start -> Settings -> Control panel.
Click User Accounts and create a new account.
Reboot your computer and login using a newly created user account.
*After this procedure you should be able to access your anti-spyware programs. Update and run a full system scan.