Thursday, 20 September 2012 14:26 | Written by
Tomas Meskauskas
|
What is Reggenie and how to remove it?
Reggenie is a software which claims that it's a registry cleaner which speeds up user's PC - in reality it's a rogue program which detects non existent system errors and asks computer users to pay for it's licence key in order to remove them. Reggenie often comes bundles with free software which can be downloaded from Internet, when downloading such free programs you should carefully read all the installation information, you could easily install Reggenie or other unwanted applications (toolbars etc.) if you won't pay attention when clicking "Next" in the installation process. When testing this software we found out that it detects over one hundred registry and other errors when installed on a fresh Windows operating system.
This fact clearly indicated that this registry optimizer was developed by people who have deceptive intentions to sell their useless software. If you are looking for a legitimate registry cleaner you can try CCleaner. It's a well known free software which can be trusted. If you have already installed Reggenie on your PC you should remove it as soon as possible, having such software installed on your computer greatly increases the chances of third party malware infecting your system. If you have already purchased this program you can try getting a refund, their website states that this product has a 60 day satisfaction guarantee so it's worth a shot.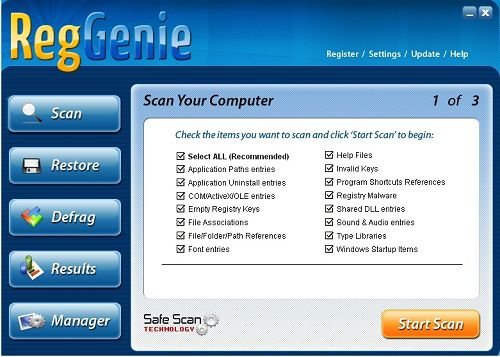 Reggenie can be categorized as a scareware, it displays fake scan results and then asks unsuspecting PC user's to pay for it's license key. Such deceptive strategy of selling licence keys are commonly used in fake antivirus programs. Don't trust this program and use the provided removal guide to eliminate it from your system.
Why you should remove Reggenie from your computer?
Reggenie is a rogue application which may allow third party applications or malware infiltrate your PC.
This program detects non existent errors on your computer and asks to pay for it's licence key in order to remove them.
Reggenie may track your computer and Internet browsing activity.
Fake error messages detected by RegGenie: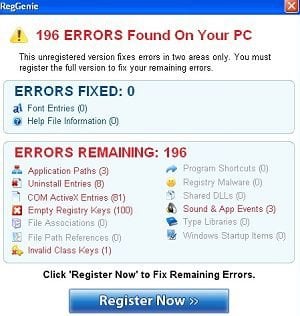 You should ignore this or other error detection lists presented by Reggenie, they are fake. Over exagurated scan results are presented with a sole purpose of tricking PC users into purchasing a licence key for this useless software.
Reggenie removal: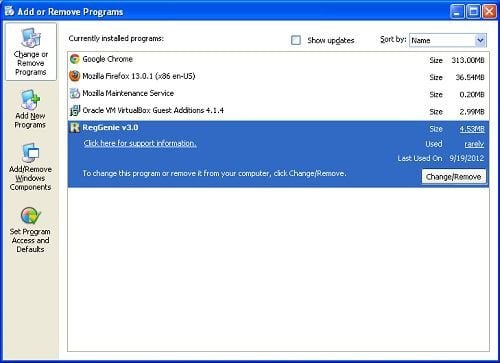 Windows 7 users:
Click "Start" ("Windows Logo" at the bottom left corner of your desktop), choose "Control Panel". Locate and click "Programs and Features". Look for "RegGenie v3.0" select it and click Uninstall.
Windows XP users:
Click "Start", choose "Settings" and click "Control Panel". Locate and click "Add or Remove Programs". Look for "RegGenie v3.0", select it and click Remove.
After uninstalling RegGenie scan your computer with anti-spyware software for any left unwanted components. Recommended anti-spyware software.
Some malicious software modifies browser settings and disables downloads of spyware and virus removing software. If you have problems downloading anti-spyware software with Internet Explorer, try downloading with Chrome, FireFox, Opera, etc.
If you can't access Internet:

Load your computer in safe mode. Click Start, click Shut down, click Restart, click OK. During your computer starting process press F8 key on your keyboard multiple times until you see Windows Advanced Option menu, then select Safe mode with networking from the list.
Start Task manager. Press ctrl+alt+del (or ctrl+shift+esc) and end task the processes of rogue program. ( if after this procedure you can't access any programs press ctrl+alt+del, click File, select New Task, and type explorer.exe then press OK.

Open Internet explorer, click Tools and select Internet Options. Select Connections, then click LAN settings, if a Use a proxy server for your LAN is checked, un-check it and press OK.

After this procedure you should be able to access Internet. Now you can download anti-spyware software from our "Top spyware removers" section and run a full scan. Download, install and don't forget to update your selected anti-spyware program. Then run a full system scan.
Additional steps needed to fully remove RegGenie from your system :
Uninstalling RegGenie is not enough, remove the left unwanted components from your operating system's registry.
Click "Start" (Windows logo) on the bottom left corner of your desktop. In the search box type "regedit" and click Enter. In the left corner of the opened window locate HKEY_CURRENT_USER and double click it. When expanded locate "Software" and double click it. When expanded locate Reggenie folder and remove it. After this procedure go to your Program Files folder on your HDD. Most commoly C:\Program Files. Locate the Reggenie folder and remove it.