Privacy SafeGuard - how to remove this adware?
Privacy SafeGuard is a browser add-on which claims to protect your privacy while surfing the Internet. It's developed to work with Google Chrome and while it's initiative to protect Internet users from privacy issues is good this browser plug-in has some downsides. First of all if computer users wants to protect their computers and Internet browsers from potential threats they should stick with reputable and legitimate products. Here are some trusted browser plug-ins that you could use: WOT, SiteAdvisor, BrowserDefender. The problem with Privacy SafeGuard browser extension is that it displays unwanted ads and computer users finds it hard to remove. Moreover it's not clear what company is behind this browser add-on.
Situations when computer users states that they haven't installed this plug-in on their Internet browsers could happen when installing free software downloaded from the Internet. As Privacy SafeGuard is ad supported it may come bundled with free software for monetization purposes. To avoid installation of unwanted browser toolbars and add-ons which may lead to redirects and unwanted ad issues computer users should install free software with cautious. When installing such software always check every installation window and opt-out browser add-ons, disallow changing browsers homepage and default search engine.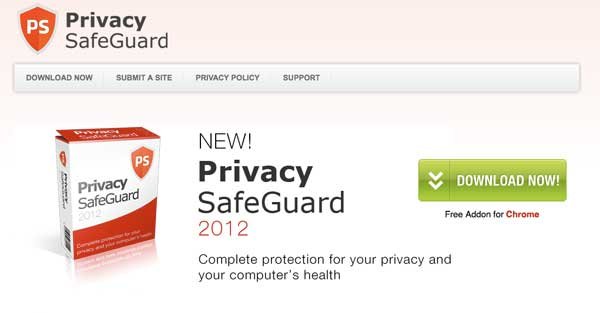 While Privacy SafeGuard is not directly linked to malware or virus infections having this browser add-on installed on your computer is not recommended. It displays unwanted advertising, slows down Internet browsing and is developed by unknown company. If you care about your computer's safety you should stick with browser add-ons developed by reputable security companies. To remove this unwanted browser extensions follow this removal guide.
Privacy SafeGuard adware removal:
Windows 7 users:
Click "Start" ("Windows Logo" in the bottom left corner of your desktop), choose "Control Panel". Locate "Programs and Features". Look for "Privacy SafeGuard" select this entry and click Uninstall.
Windows XP users:
Click "Start", choose "Settings" and click "Control Panel". Locate and click "Add or Remove Programs". Look for "Privacy SafeGuard" select this entry and click Remove.
After uninstalling Privacy SafeGuard adware scan your computer for any left unwanted components or possible malware infections. Recommended anti-spyware software.
Scan your computer for possible malware infections
By downloading any software listed on this website you agree to our Privacy Policy and Terms of Use. We are affiliated with anti-virus and anti-spyware software listed on this site. All the products we recommend were carefully tested and approved by our technicians as being one of the most effective solutions for removing this threat.
Privacy SafeGuard adware removal from browsers:
Video showing how to remove potentially unwanted browser add-ons:
Remove Privacy SafeGuard adware from Google Chrome:
Click on a wrench or bars icon (top right of the screen), select "Tools" and click on "Extensions". Locate "Privacy SafeGuard" select this entry and click on a trash can icon.
At the time of testing Privacy SafeGuard extension was available only for Google Chrome, however you can also check your other Internet browsers for possible unwanted add-ons.
Remove Privacy SafeGuard adware from Internet Explorer:
Click "Tools" (or gear icon in Internet Explorer 9), select "Manage Add-ons". Look for "Privacy SafeGuard" and disable it.
Remove Text Enhance adware from Mozilla FireFox:
Click "Tools" (at the top of the window), select "Add-ons". Click on "Extensions" and disable "Privacy SafeGuard".