QwikLinx.net - how to remove this adware causing browser redirects?
QwikLinx.net is a website that is being promoted using a free browser add-on called QwikLinx. It's developed by QwikLinx Inc. and it promises to make user's Internet browsing faster and more convenient by displaying contextual link ads, this would supposedly speed up the process of finding the information about specific topics. This particular browser extension can be categorized as being potentially unwanted program and adware.
First off all it in most cases QwikLinx installs itself on users Internet browsers (Internet Explorer, Mozilla FireFox, Google Chrome) together with freeware downloaded from the Internet, moreover when users clicks on the displayed contextual links they are taken to QwikLinx.net/search "search engine" which shows only sponsored search results. Notice that clicking on these links are not recommended - this could lead to installation of additional unwanted software or malware. QwikLinx.net and QwikLinx browser add-on doesn't add any value to Internet users - the only real purpose of this adware is monetization.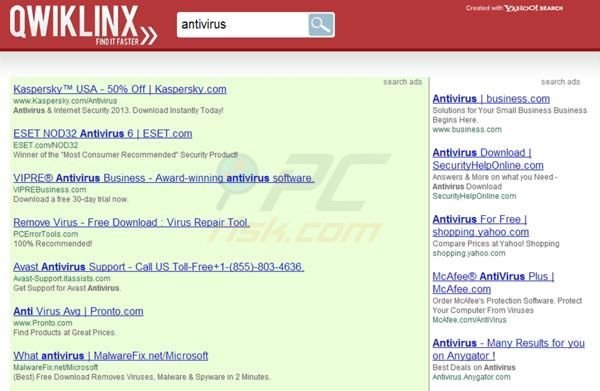 QwikLinx browser extension is a PUP (potentially unwanted program) and many computer users report that it was installed on their computer without their consent. To avoid such unwilling adware installation one should be very careful when installing free software downloaded from the Internet. Always closely inspect every step of freeware installation process - disallow any changes to be made to your Internet browsers settings, also uncheck every tick which suggests that you should install additional software. To remove QwikLinx adware and related redirect issues to QwikLinx.net/search use the provided removal guide.
QwikLinx.net redirect (QwikLinx adware) removal: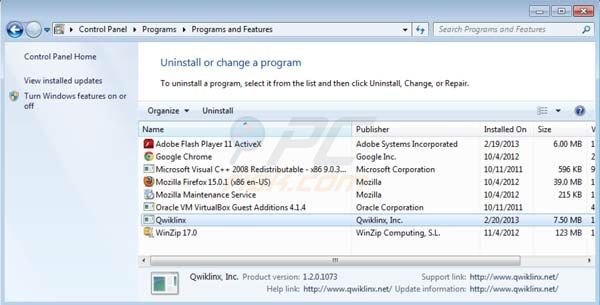 Windows 7 users:
Click "Start" ("Windows Logo" in the bottom left corner of your desktop), choose "Control Panel". Locate and click "Programs and Features". Look for "QwikLinx" select this entry and click Uninstall.
Windows XP users:
Click "Start", choose "Settings" and click "Control Panel". Locate and click "Add or Remove Programs". Look for "QwikLinx" select it and click Remove.
After uninstalling QwikLinx browser add-on which causes redirects to QwikLinx.net scan your computer for any left unwanted components. To scan your computer use recommended anti-spyware software. Remove all of the entries that this program detects to make sure your PC is clean from any possible spyware and malware infections.
Scan your computer for possible malware infections
By downloading any software listed on this website you agree to our Privacy Policy and Terms of Use. We are affiliated with anti-virus and anti-spyware software listed on this site. All the products we recommend were carefully tested and approved by our technicians as being one of the most effective solutions for removing this threat.
QwikLinx.net redirect (QwikLinx adware) removal from browsers:
Video showing how to remove potentially unwanted browser add-ons:
Remove QwikLinx.net redirect from Internet Explorer: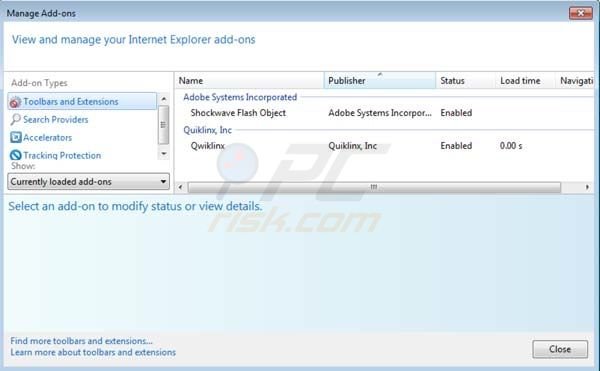 Click "Tools" (or gear icon in Internet Explorer 9), select "Manage Add-ons". Look for QwikLinx Inc. related entries (QwikLinx) and disable it.
Remove QwikLinx.net redirect from Google Chrome:

Click on a wrench or bars icon (top right of the screen), select "Tools" and click on "Extensions". Locate "QwikLinx", select it and click on a trash can icon.
Remove QwikLinx.net redirect from FireFox:

Click "FireFox" (at the top left of the main window), select "Add-ons". Click on "Extensions" and remove "QwikLinx".