Web Surf Shield Virus
Also Known As: Web Surf Shield Redirect
Distribution: Low
Damage level:

Written by Tomas Meskauskas on
Web Surf Shield virus removal instructions
What is Surf Shield?
The 'Web Surf Shield virus' is a term used to describe a Windows Hosts file-modifying Trojan. This security infection was created by cyber criminals to trick unsuspecting PC users into completing deceptive online surveys, and thus, generate affiliate revenue from them. Commonly, this Hosts file hijacker infiltrates systems through fake downloads (such as Facebook password-hacking tools, router password-hacking tools, etc), P2P networks, and infected email messages. After successful infiltration, the Web Surf Shield Trojan modifies the Host file of an infected operating system by adding various entries. This modification assigns Internet browser (Internet Explorer, Google Chrome, and Mozilla Firefox) redirects to the Web Surf Shield page, which states "Access to this page has been temporally blocked. Please take time to download our web shield update below. You can continue accessing the site after installing update. Thank you".
Redirects to this page occur when attempting to access various popular websites such as Google, Facebook, Bing, etc. Do not be fooled by this message. Do not download Web Surf Shield or complete any online surveys to supposedly 'unlock' this download. If you observe such a message on your computer, you are dealing with a Hosts file hijacker. The correct way to deal with this security infection is to eliminate it from your computer.
Screenshot of the Web Surf Shield browser hijacker: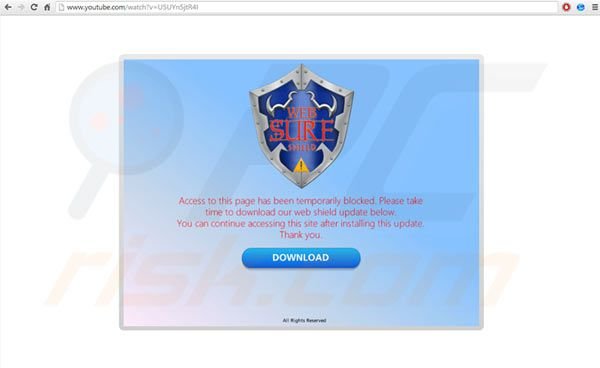 Note that completing online surveys is not recommended since they often present online forms requesting personal or banking information. Divulging this information can lead to privacy issues or identity thefts. Online surveys can also result in inadvertent installation of various potentially unwanted applications, malware, or subscriptions to expensive and useless mobile services. Cyber criminals responsible for creating the Web Surf Shield Trojan make money from each person to complete these deceptive online surveys. Note also that previous variants of this Hosts file hijacker were named "You have been blocked from our website!" and You shall not pass virus.
The Web Surf Shield download, resulting in an online survey: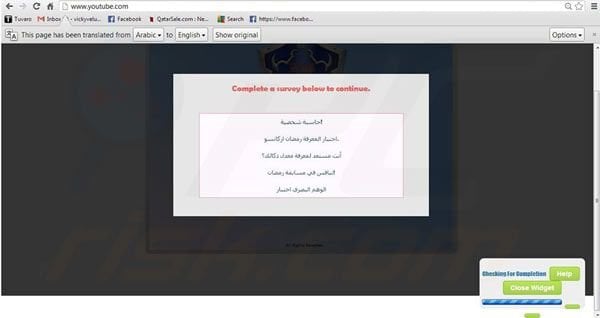 The message stating that users must download Web Surf Shield in order to access popular websites is a scam. This message is created by cyber criminals and should not be trusted. To clean your computer, restore normal Internet access, and eliminate this Hosts file hijacker from your operating system, follow the removal guide provided.
Quick menu: Quick solution to remove Web Surf Shield
Web Surf Shield virus removal:
Internet browser redirects to malicious websites (which attempt to force computer users into filling online surveys), are caused by a Trojan, which modifies the operating system Hosts file. To remove this Trojan, download recommended malware removal software and run a full system scan.
DOWNLOAD
Remover for Web Surf Shield
If you need assistance removing web surf shield virus, give us a call 24/7:
1-877-484-8393
By downloading any software listed on this website you agree to our Privacy Policy and Terms of Use. We are affiliated with anti-virus and anti-spyware software listed on this site. All the products we recommend were carefully tested and approved by our technicians as being one of the most effective solutions for removing this threat.
Following elimination of the Web Surf Shield Trojan, check your operating system Hosts file. Information stored in this file is responsible for resolving canonical names of websites - if the information in this file is changed by a malicious program, you may encounter redirect problems whilst surfing the Internet.
The Hosts file is used to resolve canonical names of websites to IP addresses. When it is changed, the user may be redirected to malicious sites, despite seeing legitimate URLs in address bar. It is difficult to determine sites are genuine when the Hosts file is modified. To fix this, please download the Microsoft Fix It tool, that restores your Hosts file to the Windows default. Run this tool when downloaded and follow the on-screen instructions. Download link below:
Summary:

A browser hijacker is a type of adware that alters user's Internet browser settings by changing one's homepage and default Internet search engine to some unwanted website. Most commonly this type of adware infiltrates user's operating system through free software downloads. While browser redirects might seem as a low risk security infection, computer users should know that the websites to which they are being redirected to commonly contain deceptive online advertisements and the Internet search engine that is presented in such websites might return shady Internet search results. Using such websites for one's daily Internet searches might easily end up in privacy issues, identity theft or malware infections.
A computer that is affected by a browser hijacker is exposed to high risk security infections. To prevent further privacy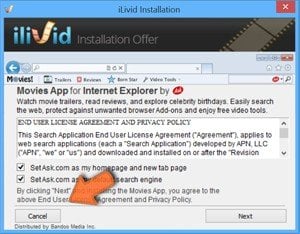 and security issues it's recommended removing any Internet browser settings altering adware as soon as possible. To avoid installation of web surf shield be very attentive when downloading and installing free software.
If your download is managed by a download client be sure to opt out of installing advertised toolbars or applications that seek to change your homepage and default Internet search engine. Some of the mentioned free software download clients don't allow downloading the chosen free program if user decides to decline installation of it's offered toolbars, in such cases it's recommended to cancel the installation and look for an alternative download source.
Symptoms indicating that your Internet browsers are affected by a browser hijacker: your homepage and/or default Internet search engine is changed, appearance of new toolbars, slow performance of Internet browsers, new Bookmarks or Favorites added, you can't change your homepage or default search engine, you see online ads on your screen that are not served by the website, you get redirected to pages you never intended to visit.
Removal assistance:
If you are experiencing problems while trying to remove web surf shield from your Internet browsers, please ask for assistance in our malware removal forum.
Post a comment:
If you have additional information on web surf shield or it's removal please share your knowledge in the comments section below.