How to recognize scams like Start The Conversation With Bad News
Also Known As: Start The Conversation With Bad News sextortion scam
Damage level:

Written by Tomas Meskauskas on (updated)
What is Start The Conversation With Bad News email scam?
The purpose of this email scam is to trick recipients into believing that their computers have been hacked and used to record an intimate video (a video of recipients visiting adult websites). Typically, scammers behind sextortion scams demand payment for not sharing the "recorded" video (or other intimate material).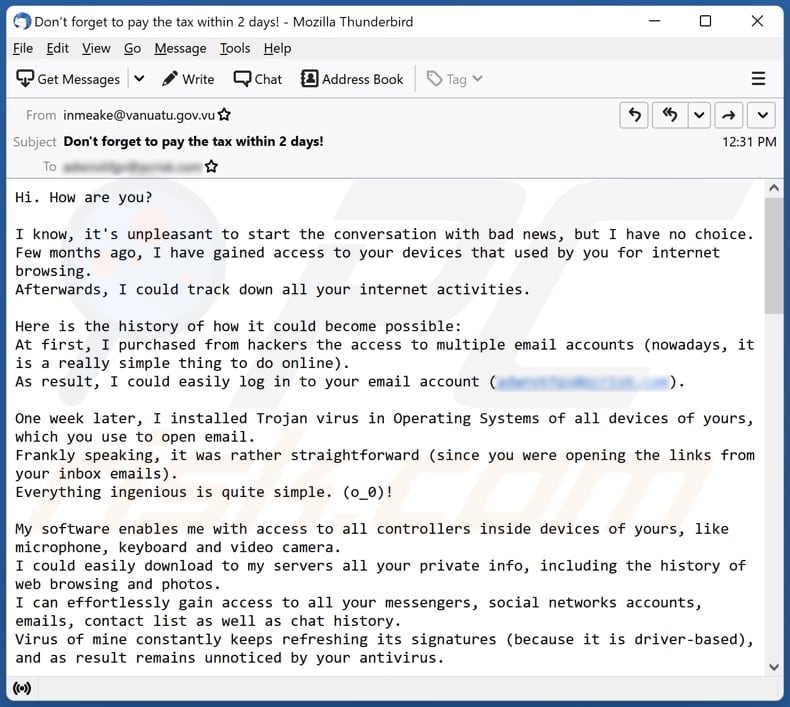 Start The Conversation With Bad News sextortion scam in detail
Scammers claim that they have planted a Trojan virus on the recipients' computers. They also claim that they have hacked their email accounts. Their goal is to trick recipients into believing that they have recorded intimate videos and share them with all relatives, friends, and colleagues in contact lists of the recipients.
Scammers demand to be paid $1370 to the provided cryptocurrency wallet within 48 hours of receiving this email. They must not be paid: they do not have access to a computer, webcam, browsing history, or anything else they claim that they have access to.
Threat Summary:
Name
Start The Conversation With Bad News Email Scam
Threat Type
Phishing, Scam, Social Engineering, Fraud
Fake Claim
A computer has been infected with a Trojan that allowed scammers to record an intimate video
Ransom Amount
$1370 in Bitcoins
Cyber Criminal Cryptowallet Address
1NYCdN9eBXhT4tPSpu4EhpjC9gHXLzipLL, 17uRSEYKbco6kMrEc5aVCsCPAsFTVRPtsd, 1N5J73F3gYPgZ8zkbnUhoryrYjQcqsA7St, 19yaJM8qhsyXnwoQP7zQbMkqJStoMYxPmE, 1JfnsTBvRQYNvzxYFTQBtEUgojmPy2vd6F, 1Cc5SjkxeZSAqryhH2MiaRGQtCrTcmAAHj, 19Ya5oeV6zqsHa9TSyurpeF1LpYJqm84Yv, 17BSLhc597GybEuZ4DyFpdtceY3Moi3nWo, 1CDLcxiYqWBhDsxriEP92aFTLe9gyyRS4L, 12dYE7RcxkD5WhuSJEEvWcrMUPA8gcHwmX, 1KoJtFyg1dUuceaLekcf5MAKcDhj79eWvu, 123GtJkq3A7V2aBTB461pNaJWMbpdxY9cg, 1AJcoDsSGe9teEfzSMicXprJFae7729J5y, 3QyKsCx2qpwCfaqcAnJU8Rskkv5iKcdFNm, 0xb48570bcbad7a3d00598fd5d130e0c2a9f710d42, 1G8U8mNRBkBPmMrHZ3MMZnM1dH5bLKhLhp, 1GzNpKDWNuvQXuRWdK1RdDgX9YEizwynPQ, 1LzggssAAtthNh2bvUkbe6ADN5EJk8i1sd, 1qiua14J2UveEWHKSrytrnVC6QNAomv5Y, 1AABBXAzQw8wrayLbM9SeZy5PA6LWGC9Du, 1HbJxyHEKTKVzgp9rb7r7KVZLBoUp6qErH
Distribution methods
Email
Damage
Monetary loss
Malware Removal (Windows)

To eliminate possible malware infections, scan your computer with legitimate antivirus software. Our security researchers recommend using Combo Cleaner.
▼ Download Combo Cleaner
To use full-featured product, you have to purchase a license for Combo Cleaner. 7 days free trial available. Combo Cleaner is owned and operated by Rcs Lt, the parent company of PCRisk.com read more.
More examples of similar email scams
"I Would Like To Avoid Any Accusations Against You Email Scam", "Im In Possession Of All Of Your Private Data Email Scam", "Unfortunately, There Are Some Bad News For You Email Scam". Sometimes, these emails contain old passwords that recipients have been used some time ago. Scammers obtain passwords from leaked databases.
How do spam campaigns infect computers?
Emails can be used to deliver malware by sending malicious attachments or website links. The purpose of such emails is to trick recipients into executing (opening) a malicious file. Most threat actors use malicious MS Office documents, JavaScript files, PDF documents, archive files, or executable files to deliver malware via emails.
How to avoid installation of malware?
Do not open links or attachments in emails sent from suspicious (or unknown) addresses. Especially when received emails are not relevant. Always use official websites and direct links as sources for downloading software (or files). Never use third-party tools to update or activate installed software. It should be achieved using tools provided by the official software developers.
If you've already opened malicious attachments, we recommend running a scan with Combo Cleaner Antivirus for Windows to automatically eliminate infiltrated malware.
Appearance of the Start The Conversation With Bad News sextortion email: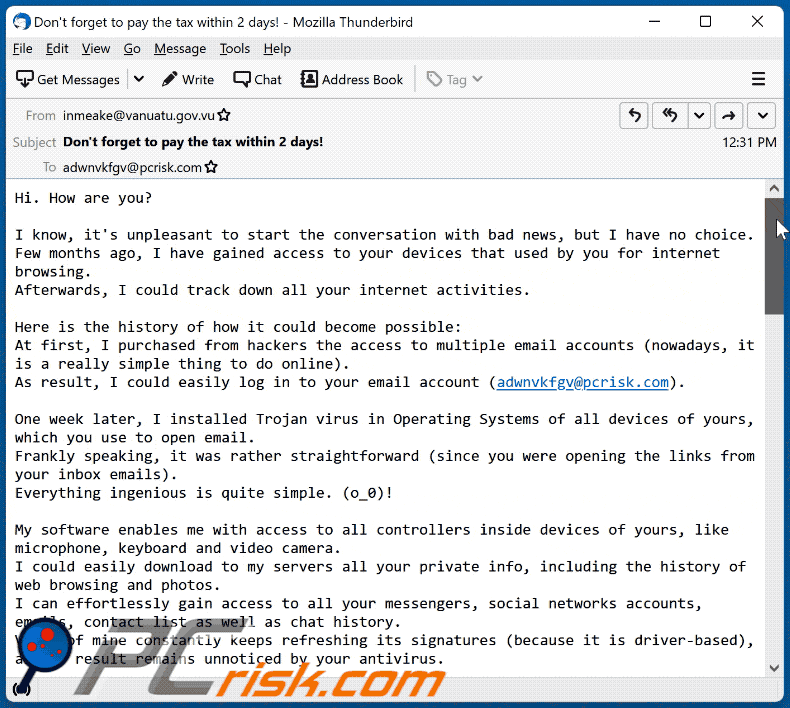 Text presented in the email letter:
Subject: Don't forget to pay the tax within 2 days!

Hi. How are you?

I know, it's unpleasant to start the conversation with bad news, but I have no choice.
Few months ago, I have gained access to your devices that used by you for internet browsing.
Afterwards, I could track down all your internet activities.

Here is the history of how it could become possible:
At first, I purchased from hackers the access to multiple email accounts (nowadays, it is a really simple thing to do online).
As result, I could easily log in to your email account (-).

One week later, I installed Trojan virus in Operating Systems of all devices of yours, which you use to open email.
Frankly speaking, it was rather straightforward (since you were opening the links from your inbox emails).
Everything ingenious is quite simple. (o_0)!

My software enables me with access to all controllers inside devices of yours, like microphone, keyboard and video camera.
I could easily download to my servers all your private info, including the history of web browsing and photos.
I can effortlessly gain access to all your messengers, social networks accounts, emails, contact list as well as chat history.
Virus of mine constantly keeps refreshing its signatures (because it is driver-based), and as result remains unnoticed by your antivirus.

Hence, you can already guess why I stayed undetected all this while.

As I was gathering information about you, I couldn't help but notice that you are also a true fan of adult-content websites.
You actually love visiting porn sites and browsing through kinky videos, while pleasuring yourself.
I could make a few dirty records with you in the main focus and montaged several videos showing the way you reach orgasm while masturbating with joy.

If you are still uncertain regarding the seriousness of my intentions,
it only requires several mouse clicks for me to forward your videos to all your relatives, as well as friends and colleagues.
I can also make those vids become accessible by public.
I honestly think that you do not really want that to happen, considering the peculiarity of videos you like to watch,
(you obviously know what I mean) all that kinky content can become a reason of serious troubles for you.

However, we can still resolve this situation in the following manner:
Everything you are required to do is a single transfer of $1370 USD to my account (or amount equivalent to bitcoin depending on exchange rate at the moment of transfer),
and once the transaction is complete, I will straight away remove all the dirty content exposing you.
After that, you can even forget that you have come across me. Moreover, I swear that all the harmful software will be removed from all devices of yours as well.
Make no doubt that I will fulfill my part.

This is really a great deal that comes at a reasonable price, given that I have used quite a lot of energy to check your profile as well as traffic over an extended period of time.
If you have no idea about bitcoin purchase process - it can be straightforwardly done by getting all the necessary information online.

Here is my bitcoin wallet provided below: 1NYCdN9eBXhT4tPSpu4EhpjC9gHXLzipLL, 1N5J73F3gYPgZ8zkbnUhoryrYjQcqsA7St, 1JfnsTBvRQYNvzxYFTQBtEUgojmPy2vd6F, 19Ya5oeV6zqsHa9TSyurpeF1LpYJqm84Yv, 17BSLhc597GybEuZ4DyFpdtceY3Moi3nWo, 1CDLcxiYqWBhDsxriEP92aFTLe9gyyRS4L

You should complete the abovementioned transfer within 48 hours (2 days) after opening this email.

The following list contains actions you should avoid attempting:
#Do not try replying my email (email in your inbox was generated by me alongside with return email address).
#Do not try calling police as well as other security forces. In addition, abstain from sharing this story with your friends.
 After I find out (be sure, I can easily do that, given that I keep complete control of all your devices) - your kinky video will end up being available to public right away.
#Do not try searching for me - there is absolutely no reason to do that. Moreover, all transactions in cryptocurrency are always anonymous.
#Do not try reinstalling the OS on your devices or throwing them away. It is pointless as well, since all your videos have already been uploaded to remote servers.

The following list contains things you should not be worried about:
#That your money won't reach my account.
- Rest assured, the transactions can be tracked, hence once the transaction is complete,
 I will know about it, because I continuously observe all your activities (my trojan virus allows me to control remotely your devices, same as TeamViewer).
#That I still will share your kinky videos to public after you complete money transfer.
- Trust me, it's pointless for me to continue troubling your life. If I really wanted, I would make it happen already!

Let's make this deal in a fair manner!

Owh, one more thing...in future it is best that you don't involve yourself in similar situations any longer!
One last advice from me - recurrently change all your passwords from all accounts.
A Polish variant of "Start The Conversation With Bad News" scam email: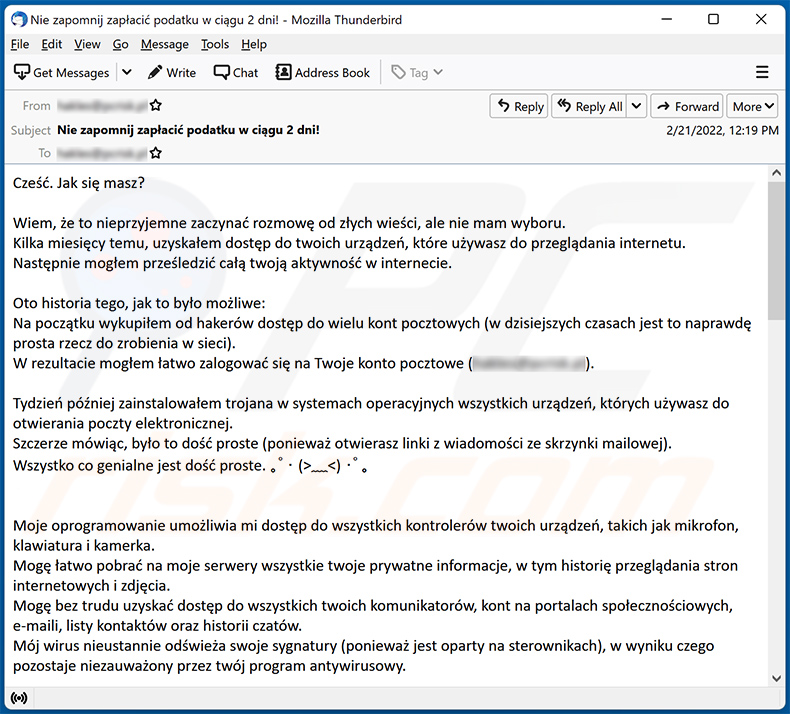 Text presented within:
Subject: Nie zapomnij zapłacić podatku w ciągu 2 dni!


Cześć. Jak się masz?

Wiem, że to nieprzyjemne zaczynać rozmowę od złych wieści, ale nie mam wyboru.
Kilka miesięcy temu, uzyskałem dostęp do twoich urządzeń, które używasz do przeglądania internetu.
Następnie mogłem prześledzić całą twoją aktywność w internecie.

Oto historia tego, jak to było możliwe:
Na początku wykupiłem od hakerów dostęp do wielu kont pocztowych (w dzisiejszych czasach jest to naprawdę prosta rzecz do zrobienia w sieci).
W rezultacie mogłem łatwo zalogować się na Twoje konto pocztowe (********).

Tydzień później zainstalowałem trojana w systemach operacyjnych wszystkich urządzeń, których używasz do otwierania poczty elektronicznej.
Szczerze mówiąc, było to dość proste (ponieważ otwierasz linki z wiadomości ze skrzynki mailowej).
Wszystko co genialne jest dość proste. 。゚・ (>﹏<) ・゚。


Moje oprogramowanie umożliwia mi dostęp do wszystkich kontrolerów twoich urządzeń, takich jak mikrofon, klawiatura i kamerka.
Mogę łatwo pobrać na moje serwery wszystkie twoje prywatne informacje, w tym historię przeglądania stron internetowych i zdjęcia.
Mogę bez trudu uzyskać dostęp do wszystkich twoich komunikatorów, kont na portalach społecznościowych, e-maili, listy kontaktów oraz historii czatów.
Mój wirus nieustannie odświeża swoje sygnatury (ponieważ jest oparty na sterownikach), w wyniku czego pozostaje niezauważony przez twój program antywirusowy.

Dlatego już teraz możesz się domyślać, dlaczego przez cały ten czas pozostawałem niewykryty.

Zbierając informacje o tobie, nie mogłem nie zauważyć, że jesteś prawdziwym fanem stron z treściami dla dorosłych.
Uwielbiasz odwiedzać strony porno i przeglądać filmy erotyczne, jednocześnie sprawiając sobie przyjemność.
Mógłbym nagrać kilka sprośnych płyt z tobą w roli głównej i zmontować kilka filmów pokazujących, jak osiągasz orgazm podczas pełnej rozkoszy masturbacji.

Jeśli nadal nie doceniasz powagi moich intencji, to wystarczy kilka kliknięć myszką, abym przekazał twoje filmy wszystkim krewnym, a także przyjaciołom i kolegom.
Mogę również sprawić, że te filmy staną się publicznie dostępne.
Szczerze myślę, że nie bardzo chcesz, aby tak się stało, biorąc pod uwagę specyfikę filmów, które lubisz oglądać (oczywiście wiesz, co mam na myśli),
wszystkie te zboczone treści mogą stać się dla ciebie źródłem poważnych kłopotów.

Jednakże, nadal możemy rozwiązać tę sytuację w następujący sposób:
Wszystko, co jesteś zobowiązany zrobić, to jednorazowy przelew 5500zł na moje konto (lub kwota stanowiąca równowartość bitcoinów w zależności od kursu walut w momencie przelewu),
a po zakończeniu transakcji od razu usunę wszystkie zboczone treści, które cię demaskują.
Po tym możesz nawet zapomnieć, że trafiłeś na mnie. Co więcej, przysięgam, że wszystkie szkodliwe programy zostaną usunięte również z wszystkich twoich urządzeń.
Nie miej wątpliwości, że spełnię swoją obietnicę.

Jest to naprawdę świetna oferta w rozsądnej cenie, biorąc pod uwagę, że zużyłem sporo energii, aby sprawdzić swój profil, a także ruch w sieci w dłuższym okresie czasu.
Jeśli nie masz pojęcia o procesie zakupu bitcoinów - można to zrobić prosto, uzyskując wszystkie niezbędne informacje online.

Szczegóły mojego portfela Bitcoin poniżej: 12dYE7RcxkD5WhuSJEEvWcrMUPA8gcHwmX, 1KoJtFyg1dUuceaLekcf5MAKcDhj79eWvu

Musisz wykonać wyżej wymieniony przelew w ciągu 48 godzin (2 dni) od otwarcia tego e-maila.

Poniższa lista zawiera działania, których powinieneś unikać:
*Nie próbuj odpowiadać na mój email (email w twojej skrzynce został wygenerowany przeze mnie wraz ze zwrotnym adresem email).
*Nie próbuj dzwonić na policję, jak również do innych służb bezpieczeństwa. Ponadto, powstrzymaj się od dzielenia się tą historią z przyjaciółmi.
Po tym jak się o tym dowiem (bądź pewien, że mogę to łatwo zrobić,
biorąc pod uwagę, że mam całkowitą kontrolę nad wszystkimi twoimi urządzeniami) - twoje zboczone filmy będą od razu publicznie dostępne.
*Nie próbuj mnie szukać - nie ma absolutnie żadnego powodu, aby to robić. Co więcej, wszystkie transakcje w kryptowalucie są zawsze anonimowe.
*Nie próbuj reinstalować systemu operacyjnego na swoich urządzeniach ani ich wyrzucać. Jest to również bezcelowe, ponieważ wszystkie twoje filmy zostały już przesłane na zdalne serwery.

Poniższa lista zawiera rzeczy, o które nie musisz się martwić:
*Że twoje pieniądze nie dotrą na moje konto.
- Spokojnie, transakcje można śledzić, a więc po zakończeniu transakcji będę o tym wiedział,
ponieważ stale obserwuję wszystkie twoje poczynania (mój trojan pozwala mi zdalnie kontrolować twoje urządzenia, tak jak TeamViewer).
*Że po zakończeniu transferu pieniędzy nadal będę publicznie udostępniał twoje zboczone filmy.
- Zaufaj mi, to nie ma sensu, abym dalej niepokoił twoje życie. Gdybym naprawdę chciał, już bym to zrobił!

Zawrzyjmy ten układ w uczciwy sposób!

Aha, jeszcze jedno... na przyszłość lepiej nie angażuj się więcej w podobne sytuacje!
Ostatnia rada ode mnie - regularnie zmieniaj wszystkie swoje hasła do wszystkich kont.
A German variant of "Start The Conversation With Bad News" scam email: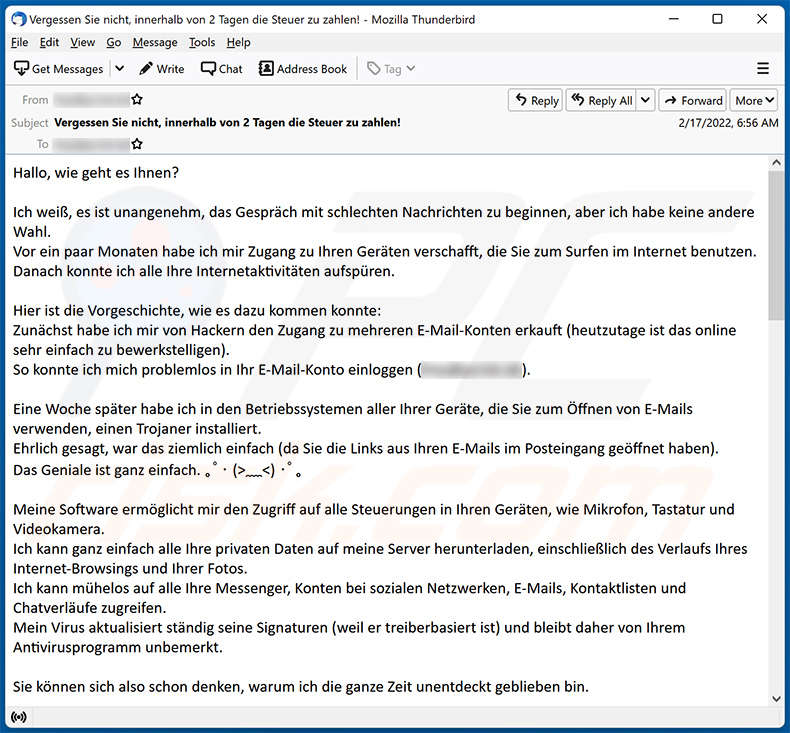 Text presented within:
Subject: Vergessen Sie nicht, innerhalb von 2 Tagen die Steuer zu zahlen!


Hallo, wie geht es Ihnen?

Ich weiß, es ist unangenehm, das Gespräch mit schlechten Nachrichten zu beginnen, aber ich habe keine andere Wahl.
Vor ein paar Monaten habe ich mir Zugang zu Ihren Geräten verschafft, die Sie zum Surfen im Internet benutzen.
Danach konnte ich alle Ihre Internetaktivitäten aufspüren.

Hier ist die Vorgeschichte, wie es dazu kommen konnte:
Zunächst habe ich mir von Hackern den Zugang zu mehreren E-Mail-Konten erkauft (heutzutage ist das online sehr einfach zu bewerkstelligen).
So konnte ich mich problemlos in Ihr E-Mail-Konto einloggen (********).

Eine Woche später habe ich in den Betriebssystemen aller Ihrer Geräte, die Sie zum Öffnen von E-Mails verwenden, einen Trojaner installiert.
Ehrlich gesagt, war das ziemlich einfach (da Sie die Links aus Ihren E-Mails im Posteingang geöffnet haben).
Das Geniale ist ganz einfach. 。゚・ (>﹏<) ・゚。

Meine Software ermöglicht mir den Zugriff auf alle Steuerungen in Ihren Geräten, wie Mikrofon, Tastatur und Videokamera.
Ich kann ganz einfach alle Ihre privaten Daten auf meine Server herunterladen, einschließlich des Verlaufs Ihres Internet-Browsings und Ihrer Fotos.
Ich kann mühelos auf alle Ihre Messenger, Konten bei sozialen Netzwerken, E-Mails, Kontaktlisten und Chatverläufe zugreifen.
Mein Virus aktualisiert ständig seine Signaturen (weil er treiberbasiert ist) und bleibt daher von Ihrem Antivirusprogramm unbemerkt.

Sie können sich also schon denken, warum ich die ganze Zeit unentdeckt geblieben bin.

Als ich Informationen über Sie sammelte, konnte ich nicht umhin festzustellen, dass Sie auch ein echter Fan von Webseiten mit Inhalten für Erwachsene sind.
Sie lieben es Pornoseiten zu besuchen und perverse Videos anzuschauen, während Sie sich selbst befriedigen.
Ich konnte ein paar schmutzige Aufnahmen mit Ihnen als Hauptdarsteller machen und mehrere Videos montieren, die zeigen, wie Sie beim lustvollen Masturbieren zum Orgasmus kommen.

Wenn Sie immer noch unsicher sind, ob meine Absichten ernst gemeint sind, kann ich Ihre Videos mit wenigen Mausklicks an alle Ihre Verwandten, Freunde und Kollegen weiterleiten.
Ich kann diese Videos auch für die Öffentlichkeit zugänglich machen.
Ich glaube ehrlich gesagt nicht, dass Sie das wirklich wollen, denn in Anbetracht der Besonderheit der Videos,
die Sie sich gerne ansehen (Sie wissen natürlich, was ich meine), können all diese perversen Inhalte zu einem Grund für ernsthafte Probleme für Sie werden.

Wir können diese Situation jedoch auf die folgende Weise lösen:
Alles, was Sie tun müssen, ist eine einmalige Überweisung von 1850€ auf mein Konto (oder den entsprechenden Betrag in Bitcoin,
je nach Wechselkurs zum Zeitpunkt der Überweisung) und sobald die Transaktion abgeschlossen ist, werde ich alle schmutzigen Inhalte, die Sie entblößen, sofort entfernen.
Danach können Sie sogar vergessen, dass Sie mir begegnet sind. Außerdem schwöre ich Ihnen, dass alle schädlichen Programme auch von allen Ihren Geräten entfernt werden.
Zweifeln Sie nicht daran, dass ich meinen Teil erfüllen werde.

Das ist wirklich ein großartiges Angebot zu einem vernünftigen Preis, bedenkt man, dass ich ziemlich viel Energie darauf verwendet habe,
Ihr Profil und Ihren Datenverkehr über einen längeren Zeitraum zu überprüfen.
Wenn Sie keine Ahnung vom Bitcoin-Kaufprozess haben, können Sie ihn ganz einfach online durchführen, indem Sie sich alle notwendigen Informationen beschaffen.

Hier finden Sie meine Bitcoin-Wallet: 123GtJkq3A7V2aBTB461pNaJWMbpdxY9cg

Sie sollten die oben genannte Überweisung innerhalb von 48 Stunden (2 Tagen) nach dem Öffnen dieser E-Mail abschließen.

Die folgende Liste enthält Aktionen, die Sie vermeiden sollten:
*Versuchen Sie nicht, auf meine E-Mail zu antworten (die E-Mail in Ihrem Posteingang wurde von mir zusammen mit der Absender-E-Mail-Adresse generiert).
*Versuchen Sie nicht, die Polizei oder andere Sicherheitskräfte anzurufen. Verzichten Sie außerdem darauf, diese Geschichte mit Ihren Freunden zu teilen.
Wenn ich das herausfinde (seien Sie sicher, dass ich das leicht tun kann, da ich die vollständige Kontrolle über alle Ihre Geräte habe),
wird Ihr perverses Video sofort öffentlich zugänglich sein.
*Versuchen Sie nicht, nach mir zu suchen - es gibt absolut keinen Grund, das zu tun. Außerdem sind alle Transaktionen in Kryptowährung immer anonym.
*Versuchen Sie nicht, das Betriebssystem auf Ihren Geräten neu zu installieren oder sie wegzuwerfen.
Das ist auch sinnlos, da alle Ihre Videos bereits auf entfernte Server hochgeladen wurden.

Die folgende Liste enthält Dinge, über die Sie sich keine Sorgen machen sollten:
*Dass Ihr Geld nicht auf meinem Konto ankommt.
- Seien Sie versichert, dass die Transaktionen nachverfolgt werden können,
d.h. sobald die Transaktion abgeschlossen ist, werde ich davon wissen, denn ich beobachte ständig alle Ihre Aktivitäten
(mein Trojaner-Virus ermöglicht es mir, Ihre Geräte aus der Ferne zu kontrollieren, genau wie bei TeamViewer).
*Dass ich Ihre perversen Videos auch noch öffentlich machen werde, nachdem Sie den Geldtransfer abgeschlossen haben.
- Glauben Sie mir, es ist zwecklos, dass ich Ihr Leben weiter störe. Wenn ich es wirklich wollte, würde ich es schon längst tun!

Lassen Sie uns dieses Geschäft auf faire Weise abschließen!

Ach ja, noch etwas... in Zukunft sollten Sie sich besser nicht mehr in ähnliche Situationen verwickeln lassen!
Ein letzter Rat von mir: Ändern Sie regelmäßig alle Ihre Passwörter für alle Konten.
A Dutch variant of "Start The Conversation With Bad News" spam email: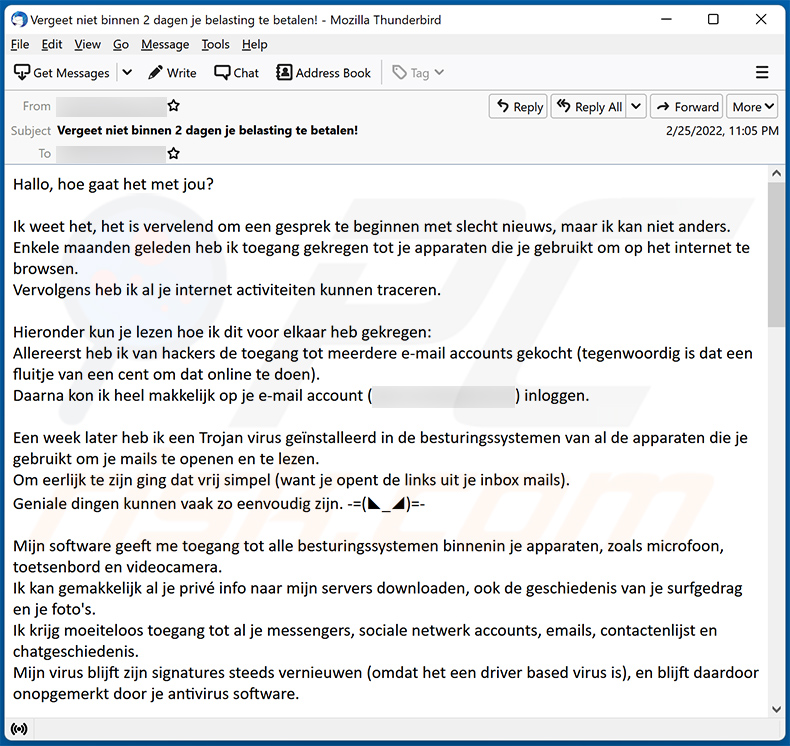 Text presented within:
Subject: Vergeet niet binnen 2 dagen je belasting te betalen!


Hallo, hoe gaat het met jou?

Ik weet het, het is vervelend om een gesprek te beginnen met slecht nieuws, maar ik kan niet anders.
Enkele maanden geleden heb ik toegang gekregen tot je apparaten die je gebruikt om op het internet te browsen.
Vervolgens heb ik al je internet activiteiten kunnen traceren.

Hieronder kun je lezen hoe ik dit voor elkaar heb gekregen:
Allereerst heb ik van hackers de toegang tot meerdere e-mail accounts gekocht (tegenwoordig is dat een fluitje van een cent om dat online te doen).
Daarna kon ik heel makkelijk op je e-mail account (-) inloggen.

Een week later heb ik een Trojan virus geïnstalleerd in de besturingssystemen van al de apparaten die je gebruikt om je mails te openen en te lezen.
Om eerlijk te zijn ging dat vrij simpel (want je opent de links uit je inbox mails).
Geniale dingen kunnen vaak zo eenvoudig zijn.

Mijn software geeft me toegang tot alle besturingssystemen binnenin je apparaten, zoals microfoon, toetsenbord en videocamera.
Ik kan gemakkelijk al je privé info naar mijn servers downloaden, ook de geschiedenis van je surfgedrag en je foto's.
Ik krijg moeiteloos toegang tot al je messengers, sociale netwerk accounts, emails, contactenlijst en chatgeschiedenis.
Mijn virus blijft zijn signatures steeds vernieuwen (omdat het een driver based virus is), en blijft daardoor onopgemerkt door je antivirus software.

Je snapt inmiddels denk ik wel waarom ik al die tijd onopgemerkt ben gebleven.

Terwijl ik gegevens over je aan het verzamelen was, viel me ook op dat je een nogal grote liefhebber bent van pornosites.
Je houdt er echt veel van om pornosites te bezoeken en door bedenkelijke video's te bladeren, terwijl je de hand aan jezelf slaat, om het zo maar eens te zeggen.
Het is me gelukt een paar compromitterende foto's van je te maken via je webcam en verschillende video's te monteren waarop te zien is hoe je een orgasme bereikt terwijl je er een slinger aan geeft.

Mocht je nog twijfelen aan de ernst van dit alles, er zijn maar een paar muisklikken voor nodig om je video's door te sturen naar al je familieleden, en ook naar vrienden en collega's.
Ik kan die video's bovendien ook openbaar toegankelijk maken. Ik vermoed eerlijk gezegd dat je daar niet echt op zit te wachten, gezien de bijzondere aard van de video's die je graag bekijkt,
je weet zelf wel wat ik bedoel, en je weet ook dat dat je in de problemen kan brengen.

We kunnen deze hele toestand voorkomen en het als volgt oplossen:
Alles wat jij hoeft te doen is een eenmalige overmaking van 1790€ naar mijn rekening (of een gelijkwaardig bedrag in bitcoin, afhankelijk van de wisselkoers op het moment van de overmaking),
en als de transactie voltooid is, verwijder ik meteen al het vunzige materiaal van jou.
Daarna mag je mij weer helemaal vergeten. Ik zweer bovendien dat alle schadelijke software ook van al je apparaten verwijderd zal worden. Maak je geen zorgen, zal mijn belofte nakomen.

Dit is echt een goede deal voor een redelijke prijs, gezien het feit dat ik heel wat tijd en moeite heb gestoken in het natrekken van jou en al je dataverkeer over een langere periode.
Als je geen idee hebt hoe het kopen van bitcoin in zijn werk gaat - het is simpel en alle benodigde informatie is online te verkrijgen.

Hieronder vind je mijn bitcoin wallet: 1AJcoDsSGe9teEfzSMicXprJFae7729J5y

Je moet de bovenstaande overschrijving binnen 48 uur (2 dagen) na het openen van deze e-mail uitvoeren.

De onderstaande lijst bevat dingen die je maar beter uit je hoofd kunt laten:
*Probeer niet mijn e-mail te beantwoorden (e-mail in je inbox werd door mij gegenereerd, samen met een retour mailadres).
*Probeer niet de politie in te schakelen. Deel dit verhaal ook niet met je vrienden. Nadat ik erachter kom (en dat is niet zo moeilijk,
gezien het feit dat ik de volledige controle over al je apparaten heb) - zal je pikante video meteen voor het publiek toegankelijk zijn.
*Probeer me niet te zoeken - dat heeft ook absoluut geen zin. Bovendien zijn alle transacties in cryptocurrency altijd anoniem.
*Probeer niet het OS op je apparaten opnieuw te installeren of ze weg te gooien. Dat heeft ook geen zin, want al je video's zijn al geüpload naar externe servers.

De onderstaande lijst bevat dingen waar je je verder geen zorgen over moet maken:
*Dat je geld mijn rekening niet zal bereiken.
- Wees gerust, de transacties kunnen gevolgd worden, dus als de transactie voltooid is, weet ik er gelijk van,
want ik houd al je activiteiten voortdurend in de gaten (mijn trojan virus stelt me in staat je apparaten op afstand te bedienen, net als TeamViewer).
*Dat ik mijn woord niet hou en nog steeds je kinky video's aan het publiek zal delen nadat je geldtransactie voltooid is.
- Geloof me, ik heb verder geen enkele behoefte om jouw leven te verneuken. Als ik echt zou willen, had ik dat namelijk allang gedaan!

Laten we deze deal op een eerlijke manier afhandelen!

Oh, nog één ding...in de toekomst kun je maar beter niet meer in dit soort situaties verzeild raken!
Dus nog een laatste advies van mij - verander regelmatig al de wachtwoorden van al je accounts.
Instant automatic malware removal: Manual threat removal might be a lengthy and complicated process that requires advanced IT skills. Combo Cleaner is a professional automatic malware removal tool that is recommended to get rid of malware. Download it by clicking the button below:
▼ DOWNLOAD Combo Cleaner By downloading any software listed on this website you agree to our Privacy Policy and Terms of Use. To use full-featured product, you have to purchase a license for Combo Cleaner. 7 days free trial available. Combo Cleaner is owned and operated by Rcs Lt, the parent company of PCRisk.com read more.
Quick menu:
Types of malicious emails:

Phishing Emails
Most commonly, cybercriminals use deceptive emails to trick Internet users into giving away their sensitive private information, for example, login information for various online services, email accounts, or online banking information.
Such attacks are called phishing. In a phishing attack, cybercriminals usually send an email message with some popular service logo (for example, Microsoft, DHL, Amazon, Netflix), create urgency (wrong shipping address, expired password, etc.), and place a link which they hope their potential victims will click on.
After clicking the link presented in such email message, victims are redirected to a fake website that looks identical or extremely similar to the original one. Victims are then asked to enter their password, credit card details, or some other information that gets stolen by cybercriminals.
Emails with Malicious Attachments
Another popular attack vector is email spam with malicious attachments that infect users' computers with malware. Malicious attachments usually carry trojans that are capable of stealing passwords, banking information, and other sensitive information.
In such attacks, cybercriminals' main goal is to trick their potential victims into opening an infected email attachment. To achieve this goal, email messages usually talk about recently received invoices, faxes, or voice messages.
If a potential victim falls for the lure and opens the attachment, their computers get infected, and cybercriminals can collect a lot of sensitive information.
While it's a more complicated method to steal personal information (spam filters and antivirus programs usually detect such attempts), if successful, cybercriminals can get a much wider array of data and can collect information for a long period of time.

Sextortion Emails
This is a type of phishing. In this case, users receive an email claiming that a cybercriminal could access the webcam of the potential victim and has a video recording of one's masturbation.
To get rid of the video, victims are asked to pay a ransom (usually using Bitcoin or another cryptocurrency). Nevertheless, all of these claims are false - users who receive such emails should ignore and delete them.
How to spot a malicious email?
While cyber criminals try to make their lure emails look trustworthy, here are some things that you should look for when trying to spot a phishing email:
Check the sender's ("from") email address: Hover your mouse over the "from" address and check if it's legitimate. For example, if you received an email from Microsoft, be sure to check if the email address is @microsoft.com and not something suspicious like @m1crosoft.com, @microsfot.com, @account-security-noreply.com, etc.
Check for generic greetings: If the greeting in the email is "Dear user", "Dear @youremail.com", "Dear valued customer", this should raise suspiciousness. Most commonly, companies call you by your name. Lack of this information could signal a phishing attempt.
Check the links in the email: Hover your mouse over the link presented in the email, if the link that appears seems suspicious, don't click it. For example, if you received an email from Microsoft and the link in the email shows that it will go to firebasestorage.googleapis.com/v0... you shouldn't trust it. It's best not to click any links in the emails but to visit the company website that sent you the email in the first place.
Don't blindly trust email attachments: Most commonly, legitimate companies will ask you to log in to their website and to view any documents there; if you received an email with an attachment, it's a good idea to scan it with an antivirus application. Infected email attachments are a common attack vector used by cybercriminals.
To minimise the risk of opening phishing and malicious emails we recommend using Combo Cleaner Antivirus for Windows. 
Example of a spam email: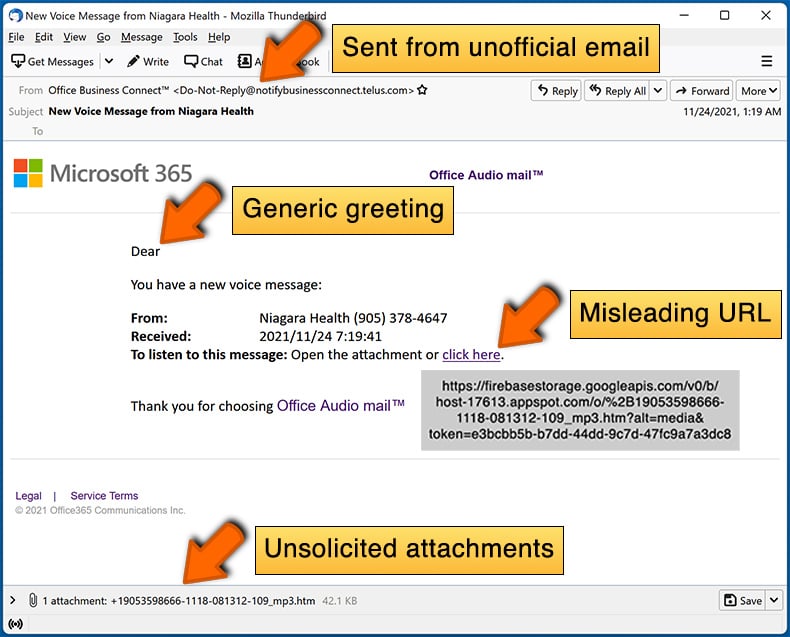 What to do if you fell for an email scam?
If you clicked on a link in a phishing email and entered your password - be sure to change your password as soon as possible. Usually, cybercriminals collect stolen credentials and then sell them to other groups that use them for malicious purposes. If you change your password in a timely manner, there's a chance that criminals won't have enough time to do any damage.
If you entered your credit card information - contact your bank as soon as possible and explain the situation. There's a good chance that you will need to cancel your compromised credit card and get a new one.
If you see any signs of identity theft - you should immediately contact the Federal Trade Commission. This institution will collect information about your situation and create a personal recovery plan.
If you opened a malicious attachment - your computer is probably infected, you should scan it with a reputable antivirus application. For this purpose, we recommend using Combo Cleaner Antivirus for Windows.
Help other Internet users - report phishing emails to Anti-Phishing Working Group, FBI's Internet Crime Complaint Center, National Fraud Information Center and U.S. Department of Justice.
Frequently Asked Questions (FAQ)
Why did I receive this email?
Scammers behind sextortion scams (or other email scams) send the same letter to thousands of recipients. Usually, they do not target anyone in particular and use email addresses obtained from leaked databases.
Has my computer been actually hacked and does the sender have any information?
No, your computer has not been hacked, compromised, or infected. When scammers are claiming that they have hacked (or infected a computer), they are just attempting to scare victims into making a payment or performing other actions.
How did cyber criminals get my email password?
If an email contains a password, scammers have likely obtained it after a data breach. Also, scammers might have obtained a password from a phishing website where it was disclosed by other cybercriminals.
I have sent cryptocurrency to the address presented in such email, can I get my money back?
It is very unlikely. In most cases, crypto transactions are virtually untraceable, meaning that people who have been scammed cannot retrieve transferred cryptocurrency.
Is it possible to infect a computer by opening an email?
No, opening an email by itself is completely harmless. Recipients infect computers by clicking links or opening attached files.
Will Combo Cleaner remove malware infections that were present in email attachment?
Yes, Combo Cleaner can detect and eliminate almost all known malware infections. In order to remove high-end malware from infected computers, it is necessary to run a full system scan.