How to spot fake emails like "Fund Transfer Assistance" scam email
Also Known As: Fund Transfer Assistance scam email
Damage level:

Written by Tomas Meskauskas on (updated)
What kind of scam is "Fund Transfer Assistance"?
Our team has reviewed this letter and determined that it is a scam. The goal of this scam email is to deceive recipients into sending money and (or) providing sensitive information to the scammers. It is strongly advised not to respond to this letter (and always ignore emails of this type).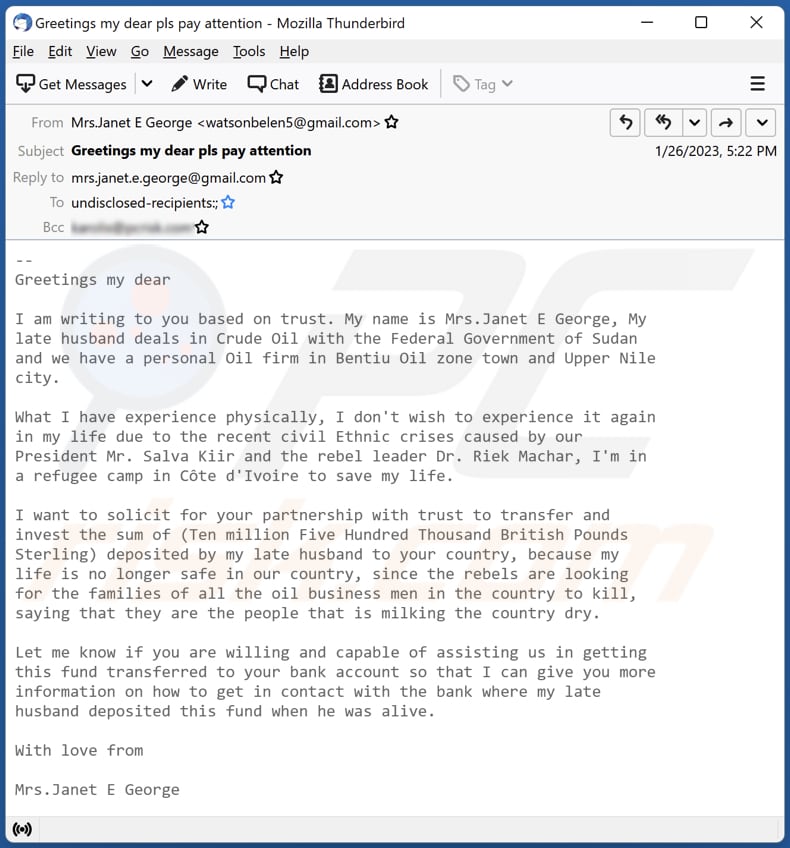 More about the "Fund Transfer Assistance" scam email
This letter appears to be from a woman named Mrs. Janet E George, a widow, who is seeking help with transferring a large sum of money her late husband had deposited in a bank. Her late husband had a personal oil firm in Bentiu Oil zone town and Upper Nile city and had dealt with the Federal Government of Sudan.
However, her life is now in danger due to the civil Ethnic crises in Sudan caused by the President and the rebel leader. She is currently taking refuge in a refugee camp in Côte d'Ivoire. She explains that the rebels are targeting the families of oil businessmen in the country, accusing them of milking the country dry.
Fearing for her safety, Mrs. George is seeking a partnership with the recipient to transfer and invest the sum of £10,500,000, which her late husband deposited. She explains that her life is no longer safe in Sudan, and she needs to transfer the money to a secure place.
She requests the recipient's help in transferring the money to their bank account and offers to provide more information on how to contact the bank where the money is currently deposited.
Typically, such letters are used to extract money or information. For instance, scammers request to pay some fake administration or other fees, or they claim that an advance payment is required to receive the full amount. Either way, people who fall for such scams never receive any money.
Threat Summary:
Name
Fund Transfer Assistance Email Scam
Threat Type
Phishing, Scam, Social Engineering, Fraud
Fake Claim
Recipients can receive a large sum of money for helping a widow
Disguise
Letter from a woman named Janet George
Symptoms
Unauthorized online purchases, changed online account passwords, identity theft, illegal access of the computer.
Distribution methods
Deceptive emails, rogue online pop-up ads, search engine poisoning techniques, misspelled domains.
Damage
Loss of sensitive private information, monetary loss, identity theft.
Malware Removal (Windows)

To eliminate possible malware infections, scan your computer with legitimate antivirus software. Our security researchers recommend using Combo Cleaner.
▼ Download Combo Cleaner
To use full-featured product, you have to purchase a license for Combo Cleaner. 7 days free trial available. Combo Cleaner is owned and operated by Rcs Lt, the parent company of PCRisk.com read more.
Similar scam emails in general
It is common for scam emails to be disguised as important/official/urgent or other kinds of letters from real people or legitimate entities. In most cases, scammers send them to trick recipients into providing credit card details, ID card information, social security numbers, or other details or sending money.
Examples of scam emails are "Thank You For Shopping With Apple", "PayPal Account Has Been Charged", and "Investment Into Building Homes For Orphans". Cybercriminals also use emails to trick recipients into infecting their computers.
How do spam campaigns infect computers?
Threat actors behind emails used to deliver malware attempt to lure recipients into infecting their computers by including malicious links or attachments in emails. Computer infections are caused when recipients download and execute malware by themselves.
Files that cybercriminals use to distribute malware are malicious MS Office documents, PDF files, JavaScript files, ISO files, executables, archive files, and other files. Simply opening a malicious file does not always leads to a computer infection. For instance, malicious MS Office documents infect computers after enabling macros commands.
How to avoid installation of malware?
Avoid opening files and links received from unknown email addresses, especially when emails appear to be irrelevant. Before opening any email content, it is essential to carefully inspect the email. Also, download programs and files from reliable sources such as official pages and stores. Do not click ads on suspicious pages.
Keep all software (including the operating system) updated. Using reputable antivirus software and regularly running system scans is also recommended. If you've already opened malicious attachments, we recommend running a scan with Combo Cleaner Antivirus for Windows to automatically eliminate infiltrated malware.
Text presented in the "Fund Transfer Assistance" email letter:
Subject: Greetings my dear pls pay attention

--
Greetings my dear

I am writing to you based on trust. My name is Mrs.Janet E George, My
late husband deals in Crude Oil with the Federal Government of Sudan
and we have a personal Oil firm in Bentiu Oil zone town and Upper Nile
city.

What I have experience physically, I don't wish to experience it again
in my life due to the recent civil Ethnic crises caused by our
President Mr. Salva Kiir and the rebel leader Dr. Riek Machar, I'm in
a refugee camp in Côte d'Ivoire to save my life.

I want to solicit for your partnership with trust to transfer and
invest the sum of (Ten million Five Hundred Thousand British Pounds
Sterling) deposited by my late husband to your country, because my
life is no longer safe in our country, since the rebels are looking
for the families of all the oil business men in the country to kill,
saying that they are the people that is milking the country dry.

Let me know if you are willing and capable of assisting us in getting
this fund transferred to your bank account so that I can give you more
information on how to get in contact with the bank where my late
husband deposited this fund when he was alive.

With love from

Mrs.Janet E George
Another example of fund transfer assistance-themed spam email: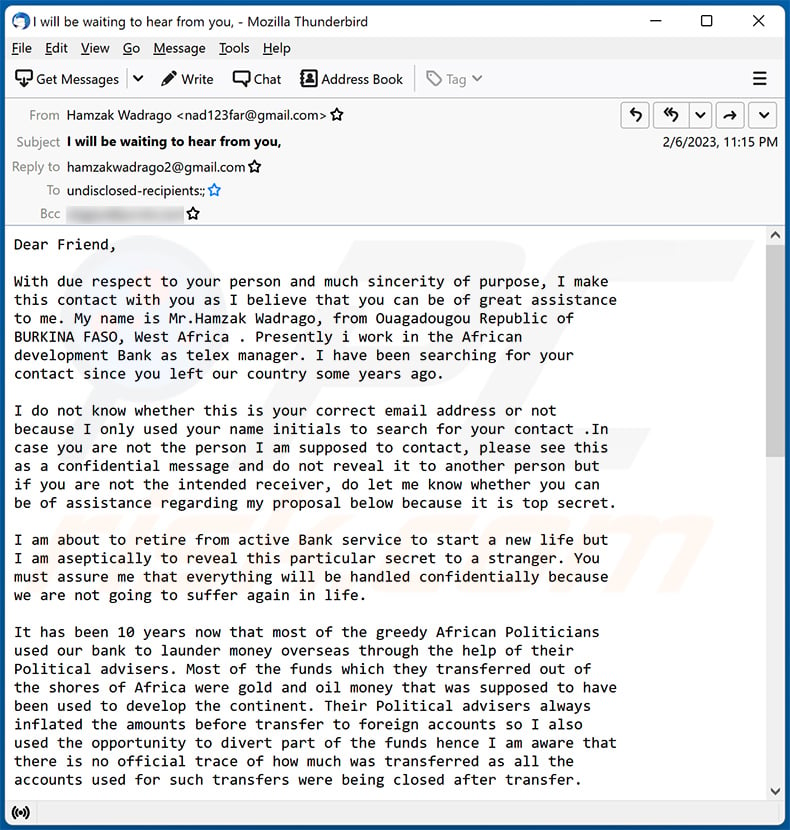 Text presented within:
Subject: I will be waiting to hear from you,

 

Dear Friend,

With due respect to your person and much sincerity of purpose, I make
this contact with you as I believe that you can be of great assistance
to me. My name is Mr.Hamzak Wadrago, from Ouagadougou Republic of
BURKINA FASO, West Africa . Presently i work in the African
development Bank as telex manager. I have been searching for your
contact since you left our country some years ago.

I do not know whether this is your correct email address or not
because I only used your name initials to search for your contact .In
case you are not the person I am supposed to contact, please see this
as a confidential message and do not reveal it to another person but
if you are not the intended receiver, do let me know whether you can
be of assistance regarding my proposal below because it is top secret.

I am about to retire from active Bank service to start a new life but
I am aseptically to reveal this particular secret to a stranger. You
must assure me that everything will be handled confidentially because
we are not going to suffer again in life.

It has been 10 years now that most of the greedy African Politicians
used our bank to launder money overseas through the help of their
Political advisers. Most of the funds which they transferred out of
the shores of Africa were gold and oil money that was supposed to have
been used to develop the continent. Their Political advisers always
inflated the amounts before transfer to foreign accounts so I also
used the opportunity to divert part of the funds hence I am aware that
there is no official trace of how much was transferred as all the
accounts used for such transfers were being closed after transfer.

I acted as the Bank Officer to most of the politicians and when I
discovered that they were using me to succeed in their greedy act; I
also cleaned some of their banking records from the Bank files and no
one cared to ask me because the money was too much for them to
control. They laundered over $5b Dollars during the process .As I am
sending this message to you, I was able to divert thirty five million
united state dollars ($35m) to an escrow account belonging to no one
in the bank. The bank is anxious now to know who the beneficiary to
the funds is because they have made a lot of profits with the funds.

It is more than Eight years now and most of the politicians are no
longer using our bank to transfer funds overseas. The ($35) Million
Dollars has been laying waste but I don't want to retire from the bank
without transferring the funds to a foreign account to enable me share
the proceeds with the receiver. The money will be shared 60% for me
and 40% for you..

There is no one coming to ask you about the funds because I secured
everything. I only want you to assist me by providing a bank account
where the funds can be transferred. You are not to face any
difficulties or legal implications as I am going to handle the
transfer personally. If you are capable of receiving the funds, do let
me know immediately to enable me give you a detailed information on
what to do.

For me, I have not stolen the money from anyone because the other
people that took the whole money did not face any problems. This is my
chance also to grab my own but you must keep the details of the funds
secret to avoid any leakages as no one in the bank knows about the
funds.

Please get back to me if you are interested and capable to handle this
project I shall intimate you on what to do when I hear from your
confirmation and acceptance. If you are capable of being my trusted
associate, do declare your consent to me.

Waiting for your urgent response.

Yours Faithfully,

Mr.Hamzak Wadrago
Another example of fund transfer assistance-themed spam email: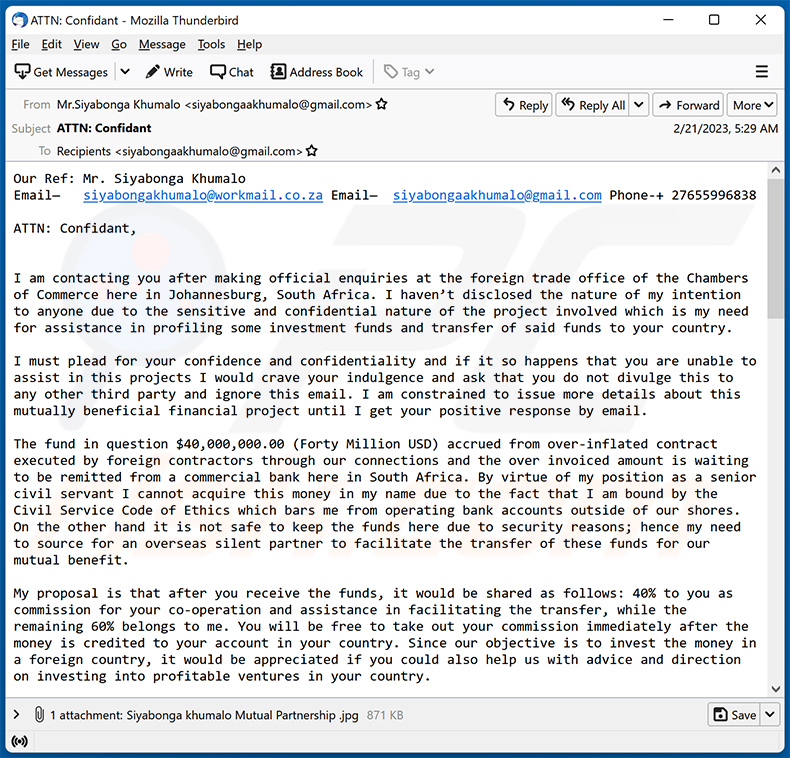 Text presented within:
Subject: ATTN: Confidant,
 

I am contacting you after making official enquiries at the foreign trade office of the Chambers of Commerce here in Johannesburg, South Africa. I haven't disclosed the nature of my intention to anyone due to the sensitive and confidential nature of the project involved which is my need for assistance in profiling some investment funds and transfer of said funds to your country.

I must plead for your confidence and confidentiality and if it so happens that you are unable to assist in this projects I would crave your indulgence and ask that you do not divulge this to any other third party and ignore this email. I am constrained to issue more details about this mutually beneficial financial project until I get your positive response by email.

The fund in question $40,000,000.00 (Forty Million USD) accrued from over-inflated contract executed by foreign contractors through our connections and the over invoiced amount is waiting to be remitted from a commercial bank here in South Africa. By virtue of my position as a senior civil servant I cannot acquire this money in my name due to the fact that I am bound by the Civil Service Code of Ethics which bars me from operating bank accounts outside of our shores. On the other hand it is not safe to keep the funds here due to security reasons; hence my need to source for an overseas silent partner to facilitate the transfer of these funds for our mutual benefit.

My proposal is that after you receive the funds, it would be shared as follows: 40% to you as commission for your co-operation and assistance in facilitating the transfer, while the remaining 60% belongs to me. You will be free to take out your commission immediately after the money is credited to your account in your country. Since our objective is to invest the money in a foreign country, it would be appreciated if you could also help us with advice and direction on investing into profitable ventures in your country.

What we need to do is give you an approval from the ministry and you will email the approval to the paying bank to facilitate the processing and transfer of the contract funds into any of your nominated bank accounts. If you are interested and capable, I request you forward your personal details to my private email address (siyabongaakhumalo@gmail.com) to enable me contact you for further discussion. I would also request that you send me your most confidential phone number for further communication too.

Respectfully,

Mr. Siyabonga Khumalo
Program Implementation Committee.
Yet another example of fund transfer assistance-themed spam email: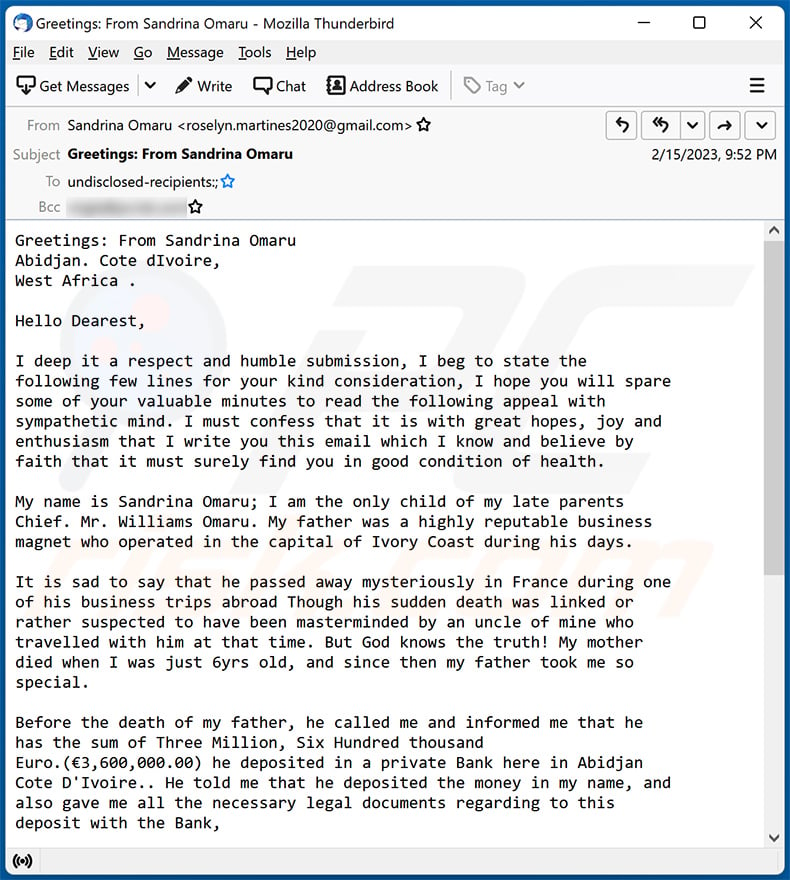 Text presented within:
Subject: Greetings: From Sandrina Omaru

 

Greetings: From Sandrina Omaru
Abidjan. Cote dIvoire,
West Africa .

Hello Dearest,

I deep it a respect and humble submission, I beg to state the
following few lines for your kind consideration, I hope you will spare
some of your valuable minutes to read the following appeal with
sympathetic mind. I must confess that it is with great hopes, joy and
enthusiasm that I write you this email which I know and believe by
faith that it must surely find you in good condition of health.

My name is Sandrina Omaru; I am the only child of my late parents
Chief. Mr. Williams Omaru. My father was a highly reputable business
magnet who operated in the capital of Ivory Coast during his days.

It is sad to say that he passed away mysteriously in France during one
of his business trips abroad Though his sudden death was linked or
rather suspected to have been masterminded by an uncle of mine who
travelled with him at that time. But God knows the truth! My mother
died when I was just 6yrs old, and since then my father took me so
special.

Before the death of my father, he called me and informed me that he
has the sum of Three Million, Six Hundred thousand
Euro.(€3,600,000.00) he deposited in a private Bank here in Abidjan
Cote D'Ivoire.. He told me that he deposited the money in my name, and
also gave me all the necessary legal documents regarding to this
deposit with the Bank,

I am just 22 years old and a university undergraduate and really don't
know what to do. Now I want an honest and GOD fearing partner overseas
who I can transfer this money with his assistance and after the
transaction I will come and reside permanently in your country till
such a time that it will be convenient for me to return back home if I
so desire. This is because I have suffered a lot of set backs as a
result of incessant political crisis here in Ivory coast.

The death of my father actually brought sorrow to my life. I also want
to invest the fund under your care because I am ignorant of business
world. I am in a sincere desire of your humble assistance in these
regards.Your suggestions and ideas will be highly regarded.

Please, consider this and get back to me as soon as possible.
Immediately I confirm your willingness, I will send to you my Picture
and also inform you more details involved in this matter.

Kind Regards,

Sandrina Omaru.
Yet another example of an email from the "Fund Transfer Assistance" spam campaign: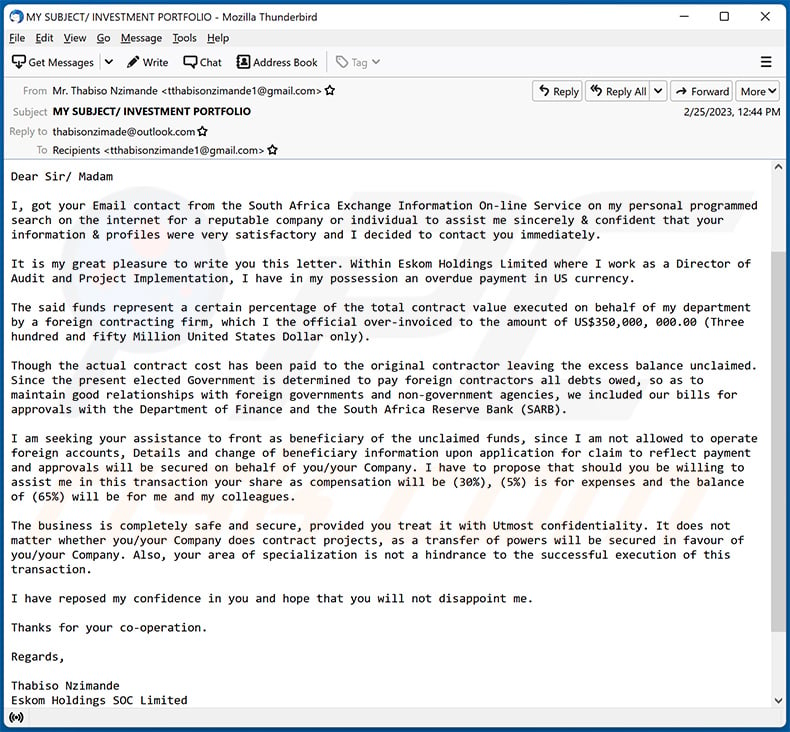 Text presented within:
Subject: MY SUBJECT/ INVESTMENT PORTFOLIO

 

Dear Sir/ Madam     

I, got your Email contact from the South Africa Exchange Information On-line Service on my personal programmed search on the internet for a reputable company or individual to assist me sincerely & confident that your information & profiles were very satisfactory and I decided to contact you immediately.        

It is my great pleasure to write you this letter. Within Eskom Holdings Limited where I work as a Director of Audit and Project Implementation, I have in my possession an overdue payment in US currency.        

The said funds represent a certain percentage of the total contract value executed on behalf of my department by a foreign contracting firm, which I the official over-invoiced to the amount of US$350,000, 000.00 (Three hundred and fifty Million United States Dollar only).

Though the actual contract cost has been paid to the original contractor leaving the excess balance unclaimed. Since the present elected Government is determined to pay foreign contractors all debts owed, so as to maintain good relationships with foreign governments and non-government agencies, we included our bills for approvals with the Department of Finance and the South Africa Reserve Bank (SARB).        

I am seeking your assistance to front as beneficiary of the unclaimed funds, since I am not allowed to operate foreign accounts, Details and change of beneficiary information upon application for claim to reflect payment and approvals will be secured on behalf of you/your Company. I have to propose that should you be willing to assist me in this transaction your share as compensation will be (30%), (5%) is for expenses and the balance of (65%) will be for me and my colleagues.

The business is completely safe and secure, provided you treat it with Utmost confidentiality. It does not matter whether you/your Company does contract projects, as a transfer of powers will be secured in favour of you/your Company. Also, your area of specialization is not a hindrance to the successful execution of this transaction.  

I have reposed my confidence in you and hope that you will not disappoint me.        

Thanks for your co-operation.   
    
Regards,    

Thabiso Nzimande     
Eskom Holdings SOC Limited
South Africa.
Another example of Fund Transfer Assistance-themed spam email: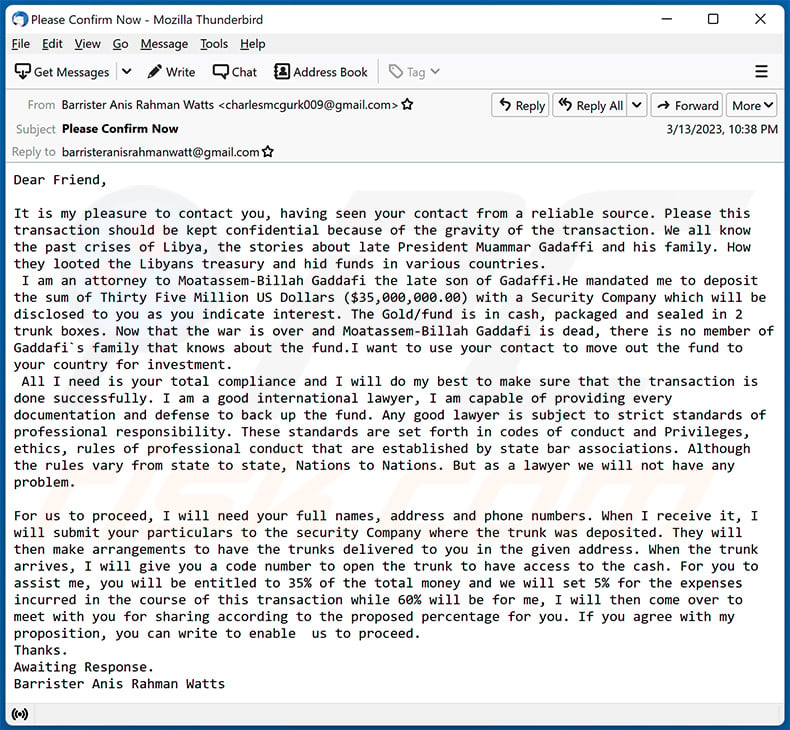 Text presented within:
Subject: Please Confirm Now


Dear Friend,
 
It is my pleasure to contact you, having seen your contact from a reliable source. Please this transaction should be kept confidential because of the gravity of the transaction. We all know the past crises of Libya, the stories about late President Muammar Gadaffi and his family. How they looted the Libyans treasury and hid funds in various countries.
 I am an attorney to Moatassem-Billah Gaddafi the late son of Gadaffi.He mandated me to deposit the sum of Thirty Five Million US Dollars ($35,000,000.00) with a Security Company which will be disclosed to you as you indicate interest. The Gold/fund is in cash, packaged and sealed in 2 trunk boxes. Now that the war is over and Moatassem-Billah Gaddafi is dead, there is no member of Gaddafi`s family that knows about the fund.I want to use your contact to move out the fund to your country for investment.
 All I need is your total compliance and I will do my best to make sure that the transaction is done successfully. I am a good international lawyer, I am capable of providing every documentation and defense to back up the fund. Any good lawyer is subject to strict standards of professional responsibility. These standards are set forth in codes of conduct and Privileges, ethics, rules of professional conduct that are established by state bar associations. Although the rules vary from state to state, Nations to Nations. But as a lawyer we will not have any problem.
 
For us to proceed, I will need your full names, address and phone numbers. When I receive it, I will submit your particulars to the security Company where the trunk was deposited. They will then make arrangements to have the trunks delivered to you in the given address. When the trunk arrives, I will give you a code number to open the trunk to have access to the cash. For you to assist me, you will be entitled to 35% of the total money and we will set 5% for the expenses incurred in the course of this transaction while 60% will be for me, I will then come over to meet with you for sharing according to the proposed percentage for you. If you agree with my proposition, you can write to enable  us to proceed.
Thanks.
Awaiting Response.
Barrister Anis Rahman Watts
Instant automatic malware removal: Manual threat removal might be a lengthy and complicated process that requires advanced computer skills. Combo Cleaner is a professional automatic malware removal tool that is recommended to get rid of malware. Download it by clicking the button below:
▼ DOWNLOAD Combo Cleaner By downloading any software listed on this website you agree to our Privacy Policy and Terms of Use. To use full-featured product, you have to purchase a license for Combo Cleaner. 7 days free trial available. Combo Cleaner is owned and operated by Rcs Lt, the parent company of PCRisk.com read more.
Quick menu:
Types of malicious emails:

Phishing Emails
Most commonly, cybercriminals use deceptive emails to trick Internet users into giving away their sensitive private information, for example, login information for various online services, email accounts, or online banking information.
Such attacks are called phishing. In a phishing attack, cybercriminals usually send an email message with some popular service logo (for example, Microsoft, DHL, Amazon, Netflix), create urgency (wrong shipping address, expired password, etc.), and place a link which they hope their potential victims will click on.
After clicking the link presented in such email message, victims are redirected to a fake website that looks identical or extremely similar to the original one. Victims are then asked to enter their password, credit card details, or some other information that gets stolen by cybercriminals.
Emails with Malicious Attachments
Another popular attack vector is email spam with malicious attachments that infect users' computers with malware. Malicious attachments usually carry trojans that are capable of stealing passwords, banking information, and other sensitive information.
In such attacks, cybercriminals' main goal is to trick their potential victims into opening an infected email attachment. To achieve this goal, email messages usually talk about recently received invoices, faxes, or voice messages.
If a potential victim falls for the lure and opens the attachment, their computers get infected, and cybercriminals can collect a lot of sensitive information.
While it's a more complicated method to steal personal information (spam filters and antivirus programs usually detect such attempts), if successful, cybercriminals can get a much wider array of data and can collect information for a long period of time.

Sextortion Emails
This is a type of phishing. In this case, users receive an email claiming that a cybercriminal could access the webcam of the potential victim and has a video recording of one's masturbation.
To get rid of the video, victims are asked to pay a ransom (usually using Bitcoin or another cryptocurrency). Nevertheless, all of these claims are false - users who receive such emails should ignore and delete them.
How to spot a malicious email?
While cyber criminals try to make their lure emails look trustworthy, here are some things that you should look for when trying to spot a phishing email:
Check the sender's ("from") email address: Hover your mouse over the "from" address and check if it's legitimate. For example, if you received an email from Microsoft, be sure to check if the email address is @microsoft.com and not something suspicious like @m1crosoft.com, @microsfot.com, @account-security-noreply.com, etc.
Check for generic greetings: If the greeting in the email is "Dear user", "Dear @youremail.com", "Dear valued customer", this should raise suspiciousness. Most commonly, companies call you by your name. Lack of this information could signal a phishing attempt.
Check the links in the email: Hover your mouse over the link presented in the email, if the link that appears seems suspicious, don't click it. For example, if you received an email from Microsoft and the link in the email shows that it will go to firebasestorage.googleapis.com/v0... you shouldn't trust it. It's best not to click any links in the emails but to visit the company website that sent you the email in the first place.
Don't blindly trust email attachments: Most commonly, legitimate companies will ask you to log in to their website and to view any documents there; if you received an email with an attachment, it's a good idea to scan it with an antivirus application. Infected email attachments are a common attack vector used by cybercriminals.
To minimise the risk of opening phishing and malicious emails we recommend using Combo Cleaner Antivirus for Windows. 
Example of a spam email: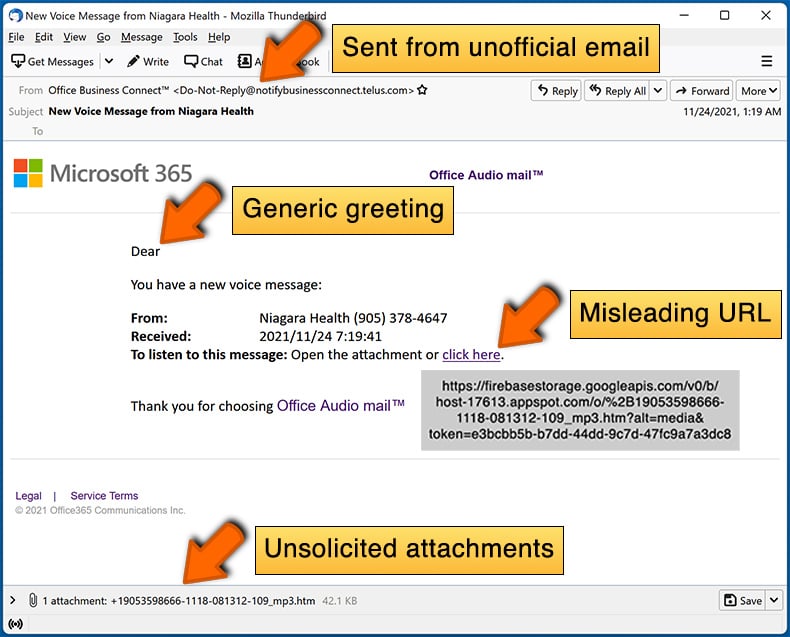 What to do if you fell for an email scam?
If you clicked on a link in a phishing email and entered your password - be sure to change your password as soon as possible. Usually, cybercriminals collect stolen credentials and then sell them to other groups that use them for malicious purposes. If you change your password in a timely manner, there's a chance that criminals won't have enough time to do any damage.
If you entered your credit card information - contact your bank as soon as possible and explain the situation. There's a good chance that you will need to cancel your compromised credit card and get a new one.
If you see any signs of identity theft - you should immediately contact the Federal Trade Commission. This institution will collect information about your situation and create a personal recovery plan.
If you opened a malicious attachment - your computer is probably infected, you should scan it with a reputable antivirus application. For this purpose, we recommend using Combo Cleaner Antivirus for Windows.
Help other Internet users - report phishing emails to Anti-Phishing Working Group, FBI's Internet Crime Complaint Center, National Fraud Information Center and U.S. Department of Justice.
Frequently Asked Questions (FAQ)
Why did I receive this email?
There are probably hundreds of other people who received the same letter. Such letters are not personal.
I have provided my personal information when tricked by this email, what should I do?
If scammers have obtained personal information such as credit card details, ID card information, social security numbers, or other details, contact corresponding authorities as soon as possible.
I have downloaded and opened a malicious file attached to an email, is my computer infected?
It is not guaranteed that your computer is infected just because you opened a malicious file. For instance, malicious MS Office documents do not infect computers until users enable macros commands. However, most executables inject malware immediately after opening them.
I have read the email but didn't open the attachment, is my computer infected?
If you have only opened an email and have not clicked on any links or opened any attachments, then your computer is not infected.
Will Combo Cleaner remove malware infections that were present in email attachment?
Combo Cleaner can detect and remove a wide range of malware infections. It is important to note that some advanced malware may be difficult to detect. Thus, it is required to run a complete system scan to ensure that all threats are detected and eliminated.