Hackers and cybercriminals are just as susceptible to trends to the millions upon millions of social media users. In the case of hackers, a trend is often determined by ease of use and chances of securing an easy payday rather than what the latest celebrities are promoting. More often than not security firms publish findings on the drastic increase in one type of malware or the other. In a turn of events, Kaspersky Labs published findings of how one method of distributing malware is finding less favor among hackers.
In the report, researchers have seen that the number of users who downloaded malware infected pirated copies of TV show episodes to their computers and the number of related attacks dropped down by 33% and 22% respectively during 2018. Researchers stated that,
"The total number of users who encountered by TV-show-related malware in 2018 is 126,340 globally, one-third less than in 2017. The number of attacks by such malware has seen a decrease of 22% to 451,636 registered attempts,"
Given that roughly a third of all files available for download via torrent websites are pirated content such as books, music, and TV shows, cybercriminals see this type of torrents as a very easy way to spread malware onto the computers of unsuspecting victims. However, with the advent of legal streaming services that are competitively priced may have resulted in a decline in popularity in using torrent websites. This is combined with tougher copyright laws and punishment for infringement are contributing factors to the decline.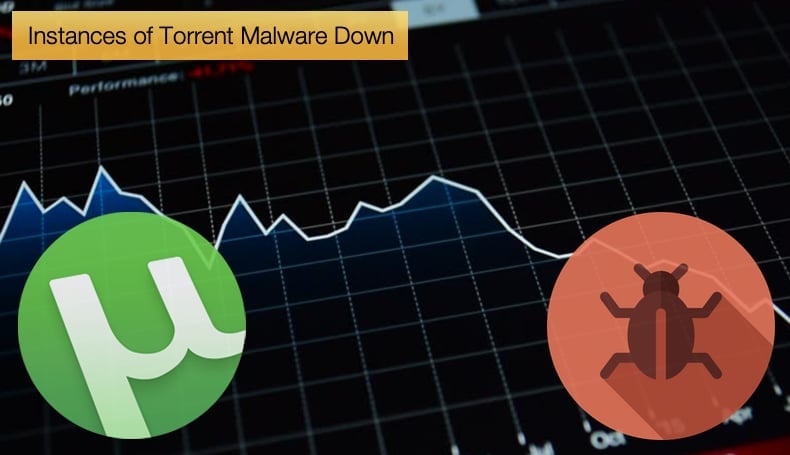 The decline is not to be taken as a victory regarding the instances of infection. The piracy of copyrighted property is still an issuing authority are struggling to deal with. According to the latest Annual Piracy Report by Muso the numbers of pirated content consumers are growing. The company registered more than 300 billion visits to pirate websites in 2017 alone. A 1.6% increase from 2016 and it is an international trend: the US supplied the greatest number of pirate website visitors with 27.9 billion visits per year, followed by Russia, 20.6 billion (a 46% increase from 2016), and India, whose residents visited pirate websites 17 billion times. While instances of infection are down there is evidence to suggest hackers are targeting popular TV shows, playing on victim's impatience to see their favorite shows.
It was discovered that the top three TV shows most used in malware attacks against users who download pirated TV episodes via torrent are Game of Thrones, The Walking Dead and Arrow, with the former accounting for roughly 17% of all infected torrents even though no new episodes were released during last year. Further, according to the research on average 2.23 users were attacked seven times per each malware file disguised as a TV show with American Horror Story proving to be the most effective cover for malware reaching an average of 3 users. The most popular types of malware distributed via torrent downloads are trojans (33%), downloaders (21%), and adware (28%), with them more often than not are delivered in a hidden folder and get launched by unsuspecting victims via a shortcut that replaces the actual TV episode.
Pirate Streaming Websites
Another factor that has resulted in a decrease in the rate of infections has been the rise in popularity of illegal streaming platforms where bootlegged TV content can be viewed without downloading. These present an apparent safer user experience than torrent downloading, however, they are not entirely safe. Such websites have been seen to distribute adware to more serious malware families. In a study conducted by academics at Carnegie University showed that if users doubled their time spent on such streaming sites would lead to 20 percent increase in total malware files and 20 percent increase in malware files after removing potential adware. Streaming websites which deliver pirated TV content are not the only ones used by bad actors to distribute malware as explained by researchers from KU Leuven-iMinds and Stony Brook University who discovered that free live streaming websites of sports and similar events are also often used to either lead "users to malware-hosting webpages" or trick them "into believing they need special software to watch the live streams."
Given that a new series of Game of Thrones is soon to be released Kaspersky has warned of a spike in infections. This spike will occur despite the tightening of laws regarding copyright infringement. However, these laws are not designed to protect users from malware infections. The best way to avoid been infected by both a torrent malware or malware distributed via pirated streaming services watch your favorite shows only through legitimate services. Further users can adopt the following good habits:
Pay close attention to website authenticity and do not visit them unless you are sure they are legitimate.
Always make sure the website is genuine by double-checking the URL format or company name spelling before you download. Fake websites may look just like the real thing, but there will be anomalies to help you spot the difference.
Pay attention to the extension of the downloaded file. If downloading TV show episodes, the file must not end in .exe
Be careful about the torrents you use and do look up the comments about the downloadable files. If comments are unrelated to the content, you are probably looking at malware.
Don't click on suspicious links promising exclusive early premiere of the latest episodes; consult the TV show schedule and keep track of it.
Install a reliable anti-virus package to further increase your security presence.