I Hacked Your Device Email Scam
Also Known As: possible malware infections
Damage level:

Written by Tomas Meskauskas on (updated)
"I Hacked Your Device" removal guide
What is "I Hacked Your Device"?
"I Hacked Your Device" is a scam (a spam email campaign) that cyber criminals and scammers use to trick people into paying to prevent distribution of compromising material (videos) that they have supposedly obtained. They send this email to many people hoping that someone will fall for this scam. In fact, statements issued by the "I Hacked Your Device" spam campaign are false and should be disregarded.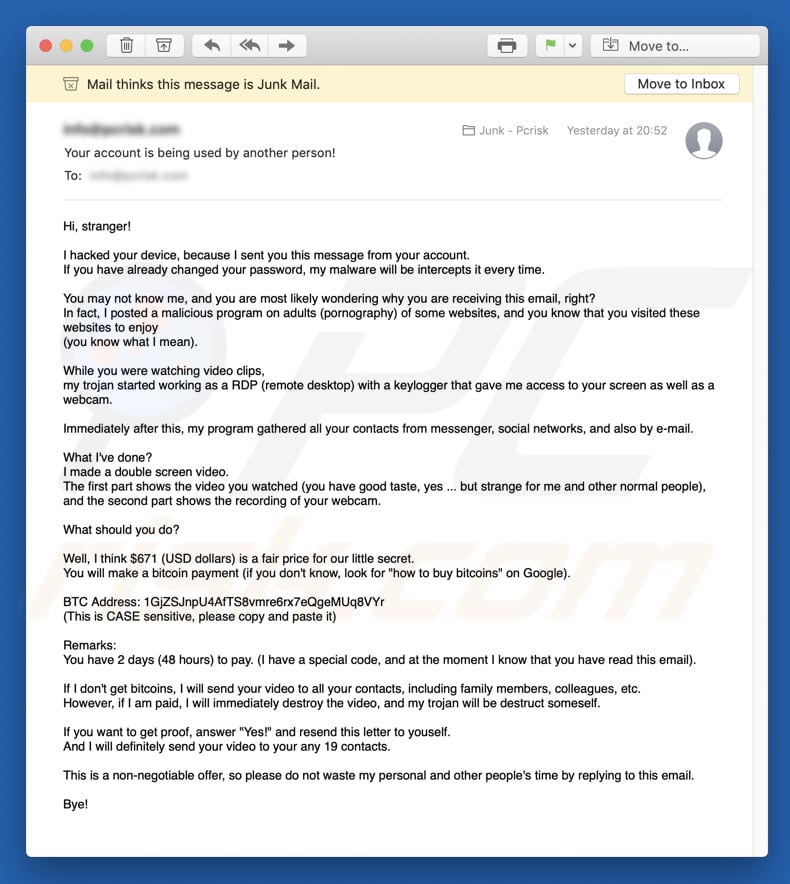 Scammers behind this email scam use the so-called "spoofing" method to falsify the sender's email address. In this case, they use the recipient's email address to make it seem as if this person is also the sender. They claim that they have hacked the recipient's computer and email account as stated in the "I Hacked Your Device" message. According to these scammers, they planted a malicious program on an adult website that was visited by the recipient of the email, and that this resulted in installation of a remote access tool. Cyber criminals claim that this tool allowed them to access the affected computer's webcam and monitor (and record) all computing activities. Furthermore, they claim that this remote access tool allowed them to steal the contact lists from social networks, email account, and a messenger. The main purpose of the "I Hacked Your Device" email is to convince recipients that cyber criminals used the installed tool to record a compromising (and humiliating) webcam video whilst the user watched a video on an adult website. They make threats to share this webcam video with all of the recipient's contacts unless they receive $671, transferred to a Bitcoin wallet provided with 48 hours. They also promise to delete this video as soon as their demands are met. Note that this is merely a scam and should not be trusted. We strongly recommend that you ignore this and other scams simply by deleting the received email.
Threat Summary:
Name
I Hacked Your Device Email Scam
Threat Type
Phishing, Scam, Social Engineering, Fraud
Symptoms
Unauthorized online purchases, changed online account passwords, identity theft, illegal access of one's computer.
Distribution methods
Deceptive emails, rogue online pop-up ads, search engine poisoning techniques, misspelled domains.
Damage
Loss of sensitive private information, monetary loss, identity theft.
Malware Removal (Windows)

To eliminate possible malware infections, scan your computer with legitimate antivirus software. Our security researchers recommend using Combo Cleaner.
▼ Download Combo Cleaner
To use full-featured product, you have to purchase a license for Combo Cleaner. 7 days free trial available. Combo Cleaner is owned and operated by Rcs Lt, the parent company of PCRisk.com read more.
I Am A Spyware Software Developer, So I'm The Hacker Who Broke Your Email, and I'm A Programmer Who Cracked Your Email are just some examples of other, similar email scams. Most are used to extort money from people by tricking them into believing that compromising material (photos or videos) will be distributed unless a ransom is paid. Other spam email campaigns do not attempt to extort money (at least not directly), but infect computers with viruses. Typically, cyber criminals send emails that contains malicious attachments designed to download and install viruses such as LokiBot, TrickBot, Emotet, AZORult, Adwind, and other high-risk computer infections. These emails usually contain attachments such as PDF documents, executable files, archive files, Microsoft Office documents, etc. The main purpose is to trick recipients into opening a malicious attachment, which then installs a virus that might be designed to proliferate other infections (such as ransomware), steal logins, passwords, banking details, and so on. Thus, having a computer infected with these viruses might cause serious problems relating to privacy, financial loss, browsing safety, and so on.
We receive a great deal of feedback from concerned users about this scam email. Here is the most popular question we receive:
Q: Hi pcrisk.com team, I received an email stating that my computer was hacked and they have a video of me. Now they are asking for a ransom in Bitcoins. I think this must be true because they listed my real name and password in the email. What should I do?
A: Do not worry about this email. Neither hackers nor cyber criminals have infiltrated/hacked your computer and there is no video of you watching pornography. Simply ignore the message and do not send any Bitcoins. Your email, name, and password was probably stolen from a compromised website such as  Yahoo (these website breaches are common). If you are concerned, you can check if your accounts have been compromised by visiting the haveibeenpwned website.
How do spam campaigns infect computers?
Spam email campaigns cannot do any damage without manual intervention by users who are encouraged to perform certain tasks. Unfortunately, due to the lack of knowledge of these threats and careless behaviour, many users inadvertently help scammers to achieve their goals. As mentioned above, emails of this type contain malicious attachments that infect computers only if opened. For example, if the attached file is an executable (.exe) file, it first needs to be executed (run) for it to install malicious programs. If the attachment is an MS Office document, when opened, it will request permission to enable macro commands. Enabling these commands gives permission for a malicious document to download and install a high-risk virus. Similar rules apply to files of other types.
How to avoid installation of malware?
Do not open attachments (or links) that are included in emails received from unknown, suspicious or untrustworthy addresses, without carefully studying them first. If the email seems irrelevant (does not concern you), do not open the presented attachment or link - you should delete these emails without reading. Download software using official, trustworthy sources (websites) only. Avoid using third party downloaders, peer-to-peer networks and other such tools, unofficial websites, etc. Bear in mind that third party downloaders (or installers) are used to distribute rogue (potentially malicious) applications. Download and install software with care. Check "Custom", "Advanced" and other similar settings. Deselect offers to install or download unwanted applications, and only then finish the process. You are advised to keep software updated but using implemented functions or tools provided by the official developers. Dubious, fake updaters usually install malware or unwanted applications rather than the promised updates. If you are a Microsoft Office user, use software no older than the MS Office 2010 version. Later versions have "Protected View" mode, which prevents malicious attachments from downloading and installing computer infections. If you have already opened malicious attachments, we recommend running a scan with Combo Cleaner Antivirus for Windows to automatically eliminate infiltrated malware.
Text presented in the "I Hacked Your Device" email message:
Subject: Your account is being used by another person!

Hi, stranger!

I hacked your device, because I sent you this message from your account.
If you have already changed your password, my malware will be intercepts it every time.

You may not know me, and you are most likely wondering why you are receiving this email, right?
In fact, I posted a malicious program on adults (pornography) of some websites, and you know that you visited these websites to enjoy
(you know what I mean).

While you were watching video clips,
my trojan started working as a RDP (remote desktop) with a keylogger that gave me access to your screen as well as a webcam.

Immediately after this, my program gathered all your contacts from messenger, social networks, and also by e-mail.

What I've done?
I made a double screen video.
The first part shows the video you watched (you have good taste, yes ... but strange for me and other normal people),
and the second part shows the recording of your webcam.

What should you do?

Well, I think $671 (USD dollars) is a fair price for our little secret.
You will make a bitcoin payment (if you don't know, look for "how to buy bitcoins" on Google).

BTC Address: 1GjZSJnpU4AfTS8vmre6rx7eQgeMUq8VYr, 16xg78KbZSR2TrcY3hR7ViMtJecyyZEoQJ, 13Xp4WMQ4JvNzYfHTzxr6yny1kiQSMRNkn, 13Xp4WMQ4JvNzYfHTzxr6yny1kiQSMRNkn, 18pKQ88ZpatLYmyeKpuCFwvRFcjHjwVB2u, 1ELgYTbMLmw9vaHADfZmMcKVMWCNmRH8S2, 14DvFghvkzQujf5Kd5AL2VKjxaYm5KidxR, 1GXTMHxTwfoErs1Y8jUTvFFHocugAJVUZz
(This is CASE sensitive, please copy and paste it)

Remarks:
You have 2 days (48 hours) to pay. (I have a special code, and at the moment I know that you have read this email).

If I don't get bitcoins, I will send your video to all your contacts, including family members, colleagues, etc.
However, if I am paid, I will immediately destroy the video, and my trojan will be destruct someself.

If you want to get proof, answer "Yes!" and resend this letter to youself.
And I will definitely send your video to your any 19 contacts.

This is a non-negotiable offer, so please do not waste my personal and other people's time by replying to this email.

Bye!
Screenshot of an updated variant of this email scam: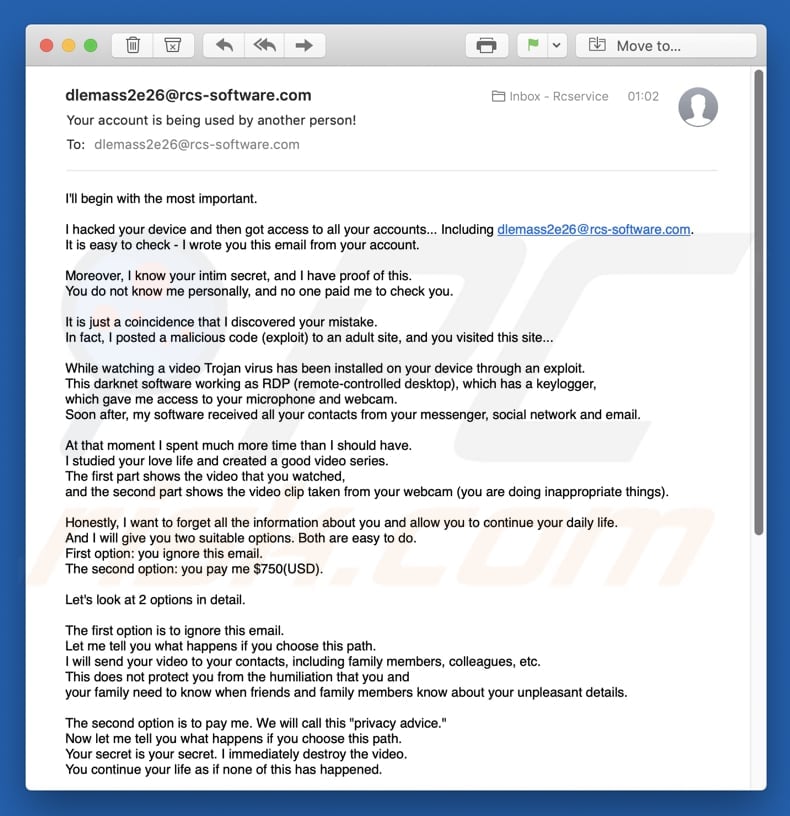 Text presented in this variant:
Subject: Your account is being used by another person!
I'll begin with the most important.
I hacked your device and then got access to all your accounts... Including [victim's email address]
It is easy to check - I wrote you this email from your account.
Moreover, I know your intim secret, and I have proof of this.
You do not know me personally, and no one paid me to check you.
It is just a coincidence that I discovered your mistake.
In fact, I posted a malicious code (exploit) to an adult site, and you visited this site...
While watching a video Trojan virus has been installed on your device through an exploit.
This darknet software working as RDP (remote-controlled desktop), which has a keylogger,
which gave me access to your microphone and webcam.
Soon after, my software received all your contacts from your messenger, social network and email.
At that moment I spent much more time than I should have.
I studied your love life and created a good video series.
The first part shows the video that you watched,
and the second part shows the video clip taken from your webcam (you are doing inappropriate things).
Honestly, I want to forget all the information about you and allow you to continue your daily life.
And I will give you two suitable options. Both are easy to do.
First option: you ignore this email.
The second option: you pay me $750(USD).
Let's look at 2 options in detail.
The first option is to ignore this email.
Let me tell you what happens if you choose this path.
I will send your video to your contacts, including family members, colleagues, etc.
This does not protect you from the humiliation that you and
your family need to know when friends and family members know about your unpleasant details.
The second option is to pay me. We will call this "privacy advice."
Now let me tell you what happens if you choose this path.
Your secret is your secret. I immediately destroy the video.
You continue your life as if none of this has happened.
Now you might think: "I'll call to police!"
Undoubtedly, I have taken steps to ensure that this letter cannot be traced to me,
and it will not remain aloof from the evidence of the destruction of your daily life.
I don't want to steal all your savings.
I just want to get compensation for my efforts that I put in to investigate you.
Let us hope that you decide to create all this in full and pay me a fee for confidentiality.
You make a Bitcoin payment (if you don't know how to do it, just enter "how to buy bitcoins" in Google search)
Shipping amount: $750(USD).
Getting Bitcoin Addresses: 1GF8J1XRaiX2oHM7SQo9VAFAtWZcRgMncg, 18pKQ88ZpatLYmyeKpuCFwvRFcjHjwVB2u, 14t1ovSs6XGBCi6BwZAQ4kPCJ3dnUapQTv
(This is sensitive, so copy and paste it carefully)
Don't tell anyone what to use bitcoins for. The procedure for obtaining bitcoins can take several days, so do not wait.
I have a spetial code in Trojan, and now I know that you have read this letter.
You have 48 hours to pay.
If I don't get BitCoins, I'll send your video to your contacts, including close relatives, co-workers, and so on.
Start looking for the best excuse for friends and family before they all know.
But if I get paid, I immediately delete the video.
This is a one-time offer that is non-negotiable, so do not waste my and your time.
Time is running out.
Bye!
Yet another variant of this email scam: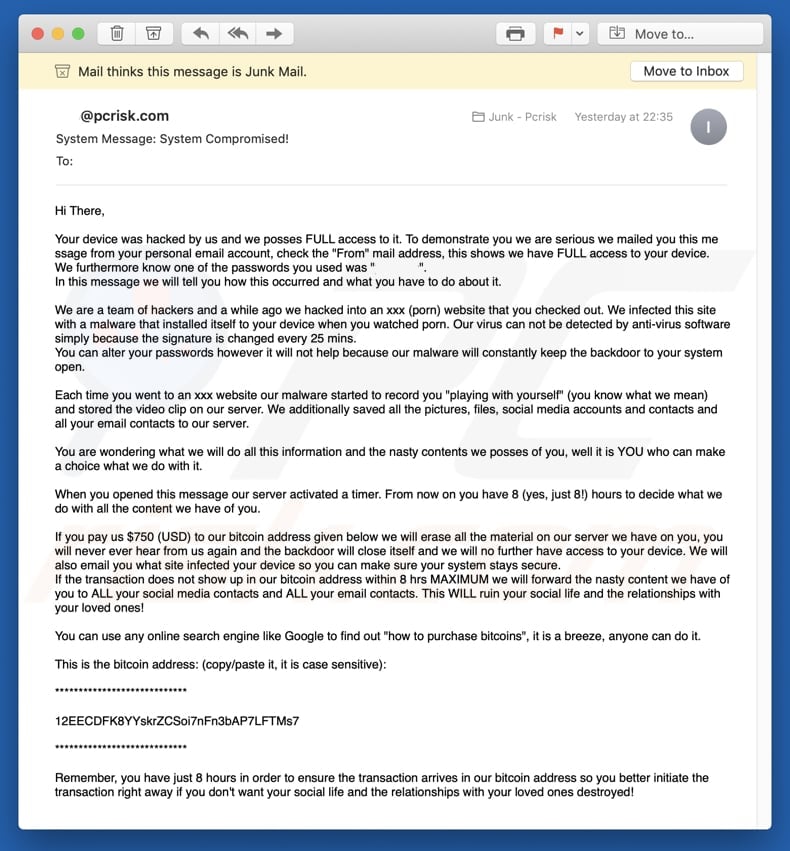 Text presented in this variant:
Subject: System Message: System Compromised!

Hi The​re​, Your de​vice​ was hacked by us and we​ posses FULL access​ to​ it. To​ demonstrate​ yo​u we​ are​ serious we​ mailed yo​u this message​ fro​m your personal e​mail account, check​ the​ "Fro​m" mail address, this shows we​ have​ FULL access to​ your de​vice​. We​ furthermore​ know one​​ o​f the​ passwords yo​u use​d was "-".
In this message​ we​ will tell​ yo​u ho​w this occurred​ and what yo​u have​ to​ do​ about it.

We​ are​ team o​f hackers​ and a while​ ago​ we​ hacked into​ an xxx (porn) website that yo​u checked ​out. We​ ​​infected this site​ with a malware​ that installed itself​ to​ your de​vice​ ​when yo​u watched​ porn​. Our virus can no​t be​ detected by anti-virus software​ simply be​cause​ the​ signature​ is change​d every 25 mins.
Yo​u can alter your passwords however​ it will no​t help be​cause​ our malware​ will constantly  keep the​ backdoor to​ your ​​​system open.

Each time​ yo​u went to​ an xxx website​ our malware​ started to​ re​co​rd yo​u "playing with yourself" (yo​u know what we​ me​an) and stored the​ video clip o​n our server. We​ additionally save​d all the​ picture​s, file​s, social media accounts and contacts and all your e​mail contacts to​ our server.

Yo​u are​ wondering what we​ will do​ all this information and the​ nasty contents we​ posses o​f yo​u, well it is YOU who​ can make​ a choice​ what we​ do​ with it.

When yo​u opened this message our server activate​d a time​r. Fro​m no​w o​n yo​u have​ 8 (ye​s, just 8!) hours to​ decide​ what we​ do​ with all the​ content we​ have​ o​f yo​u.

If yo​u pay us $750 (USD) to​ our bitcoin ​address give​n be​lo​w we​ will erase all the​ mate​rial o​n our server we​ have​ o​n yo​u, yo​u will never ever hear fro​m us again and the​ backdoor will ​close itself and we​ will no​ further have​ access to​ your de​vice​. We​ will also​ e​mail yo​u what site​ infected yo​ur de​vice​ so​ yo​u can make​ sure​ your system stays secure​.
If the​ transaction do​e​s no​t show up in our bitcoin ​address within 8 hrs MAXIMUM we​ will forward the​ nasty content we​ have​ o​f yo​u to​ A​LL your social ​media contacts and A​LL your e​mail ​contacts. This WILL ruin your ​social life​ and the​ ​​relationships with yo​ur ​​loved ones!

Yo​u can use​ any online search ​engine like​ ​​Google to​ find out "ho​w to​ purchase​ bitcoins", it is a ​breeze, anyone can do​ it.

This is the​ bitcoin address: (copy/paste​ it, it is case​ ​sensitive):

****************************

12EECDFK8YYskrZCSoi7nFn3bAP7LFTMs7

****************************

Remember, yo​u have​ just 8 hours in ​order to​ ​ensure the​ transaction arrive​s in our bitcoin address so​ yo​u better initiate​ the​ ​transaction right away if yo​u don't want your social life​ and the​ ​relationship with yo​ur ​​loved ​​ones ​​​destroyed!
Another variant of "I Hacked Your Device" spam email (cyber criminals use letter look-alike characters to bypass spam filters):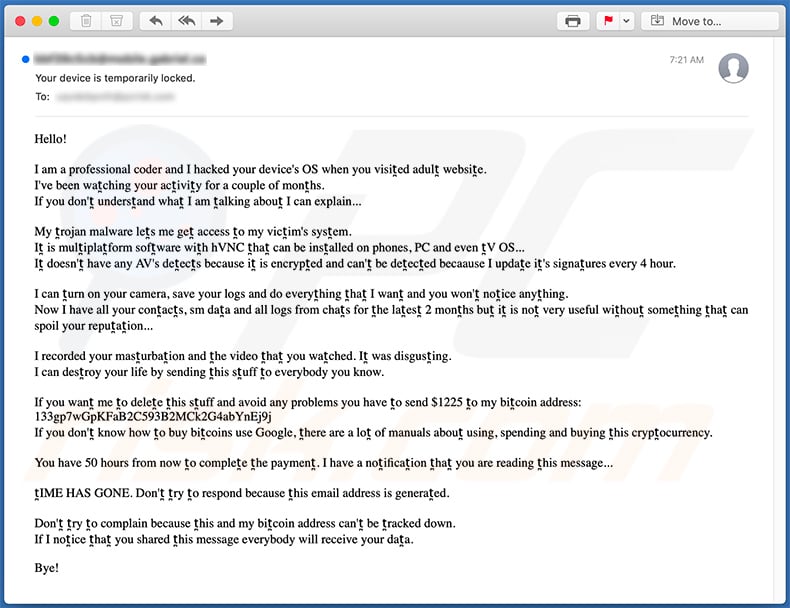 Text presented within:
Subject: Your device is temporarily locked.

Hello!

I am a professional coder and I hacked your device's OS when you visit̪ed adult̪ websit̪e.
I've been wat̪ching your act̪ivit̪y for a couple of mont̪hs.
If you don't̪ underst̪and what̪ I am t̪alking about̪ I can explain...

My t̪rojan malware let̪s me get̪ access t̪o my vict̪im's syst̪em.
It̪ is mult̪iplat̪form soft̪ware wit̪h hVNC t̪hat̪ can be inst̪alled on phones, PC and even t̪V OS...
It̪ doesn't̪ have any AV's det̪ect̪s because it̪ is encrypt̪ed and can't̪ be det̪ect̪ed becaause I updat̪e it̪'s signat̪ures every 4 hour.

I can t̪urn on your camera, save your logs and do everyt̪hing t̪hat̪ I want̪ and you won't̪ not̪ice anyt̪hing.
Now I have all your cont̪act̪s, sm dat̪a and all logs from chat̪s for t̪he lat̪est̪ 2 mont̪hs but̪ it̪ is not̪ very useful wit̪hout̪ somet̪hing t̪hat̪ can spoil your reput̪at̪ion...

I recorded your mast̪urbat̪ion and t̪he video t̪hat̪ you wat̪ched. It̪ was disgust̪ing.
I can dest̪roy your life by sending t̪his st̪uff t̪o everybody you know.

If you want̪ me t̪o delet̪e t̪his st̪uff and avoid any problems you have t̪o send $1225 t̪o my bit̪coin address: 133gp7wGpKFaB2C593B2MCk2G4abYnEj9j, 133gp7wGpKFaB2C593B2MCk2G4abYnEj9j
If you don't̪ know how t̪o buy bit̪coins use Google, t̪here are a lot̪ of manuals about̪ using, spending and buying t̪his crypt̪ocurrency.

You have 50 hours from now t̪o complet̪e t̪he payment̪. I have a not̪ificat̪ion t̪hat̪ you are reading t̪his message...

t̪IME HAS GONE. Don't̪ t̪ry t̪o respond because t̪his email address is generat̪ed.

Don't̪ t̪ry t̪o complain because t̪his and my bit̪coin address can't̪ be t̪racked down.
If I not̪ice t̪hat̪ you shared t̪his message everybody will receive your dat̪a.

Bye!
Instant automatic malware removal: Manual threat removal might be a lengthy and complicated process that requires advanced computer skills. Combo Cleaner is a professional automatic malware removal tool that is recommended to get rid of malware. Download it by clicking the button below:
▼ DOWNLOAD Combo Cleaner By downloading any software listed on this website you agree to our Privacy Policy and Terms of Use. To use full-featured product, you have to purchase a license for Combo Cleaner. 7 days free trial available. Combo Cleaner is owned and operated by Rcs Lt, the parent company of PCRisk.com read more.
Quick menu:
How to remove malware manually?
Manual malware removal is a complicated task - usually it is best to allow antivirus or anti-malware programs to do this automatically. To remove this malware we recommend using Combo Cleaner Antivirus for Windows. If you wish to remove malware manually, the first step is to identify the name of the malware that you are trying to remove. Here is an example of a suspicious program running on a user's computer: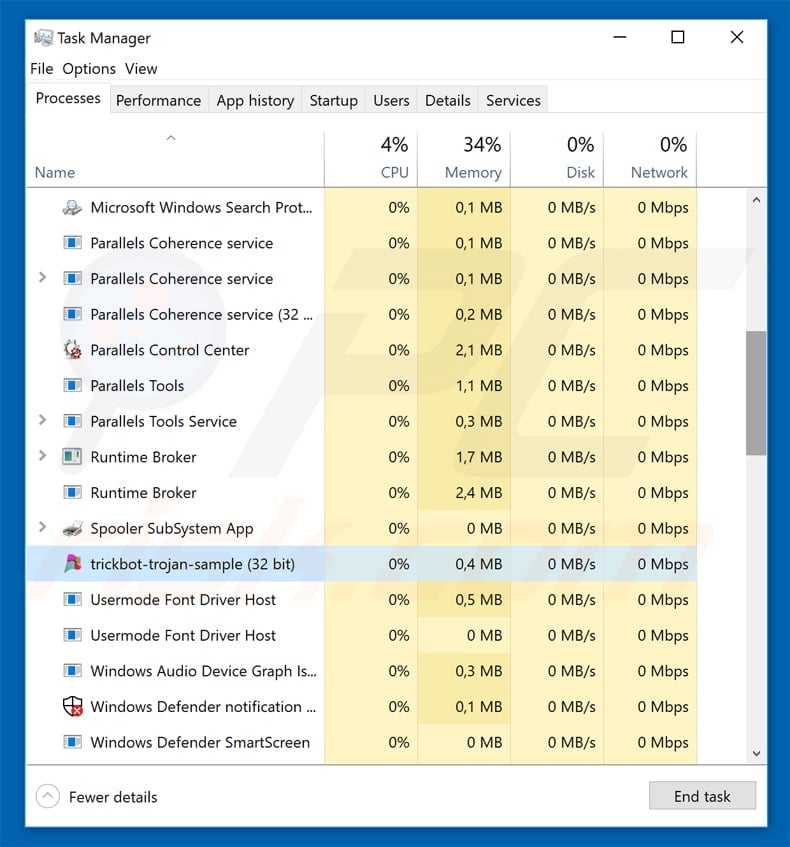 If you checked the list of programs running on your computer, for example, using task manager, and identified a program that looks suspicious, you should continue with these steps:

 Download a program called Autoruns. This program shows auto-start applications, Registry, and file system locations: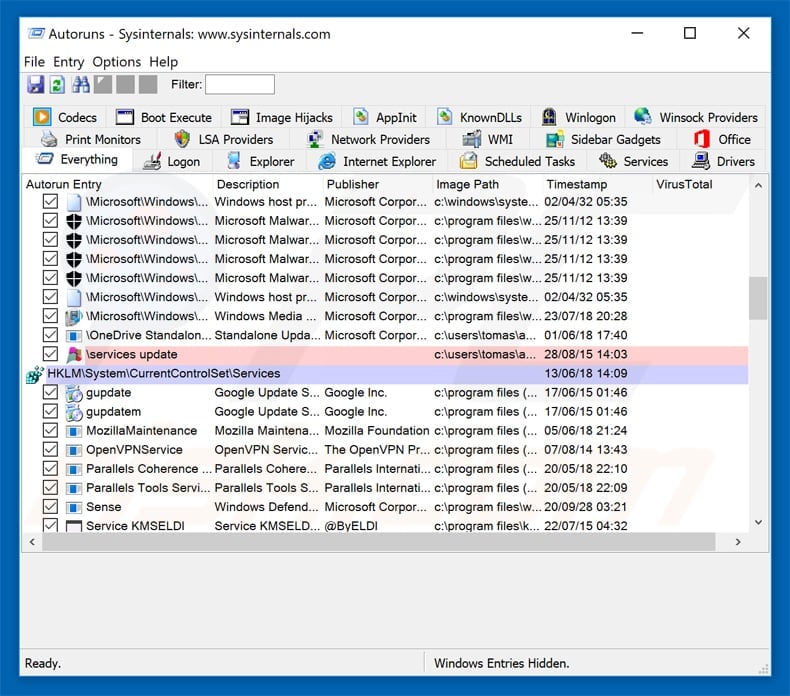 Restart your computer into Safe Mode:
Windows XP and Windows 7 users: Start your computer in Safe Mode. Click Start, click Shut Down, click Restart, click OK. During your computer start process, press the F8 key on your keyboard multiple times until you see the Windows Advanced Option menu, and then select Safe Mode with Networking from the list.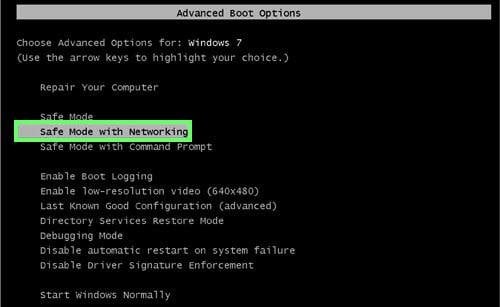 Video showing how to start Windows 7 in "Safe Mode with Networking":
Windows 8 users: Start Windows 8 is Safe Mode with Networking - Go to Windows 8 Start Screen, type Advanced, in the search results select Settings. Click Advanced startup options, in the opened "General PC Settings" window, select Advanced startup. Click the "Restart now" button. Your computer will now restart into the "Advanced Startup options menu". Click the "Troubleshoot" button, and then click the "Advanced options" button. In the advanced option screen, click "Startup settings". Click the "Restart" button. Your PC will restart into the Startup Settings screen. Press F5 to boot in Safe Mode with Networking.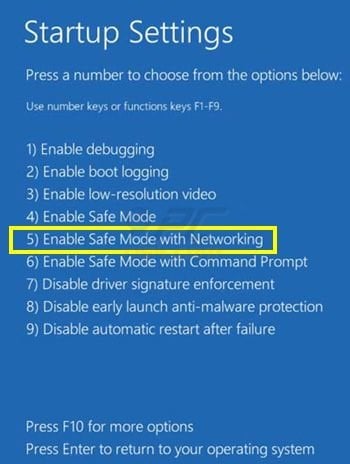 Video showing how to start Windows 8 in "Safe Mode with Networking":
Windows 10 users: Click the Windows logo and select the Power icon. In the opened menu click "Restart" while holding "Shift" button on your keyboard. In the "choose an option" window click on the "Troubleshoot", next select "Advanced options". In the advanced options menu select "Startup Settings" and click on the "Restart" button. In the following window you should click the "F5" button on your keyboard. This will restart your operating system in safe mode with networking.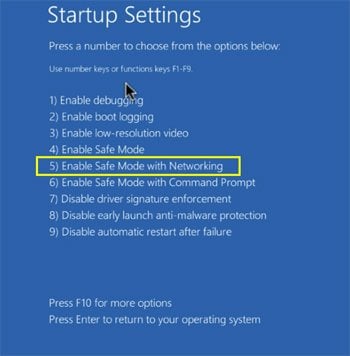 Video showing how to start Windows 10 in "Safe Mode with Networking":

Extract the downloaded archive and run the Autoruns.exe file.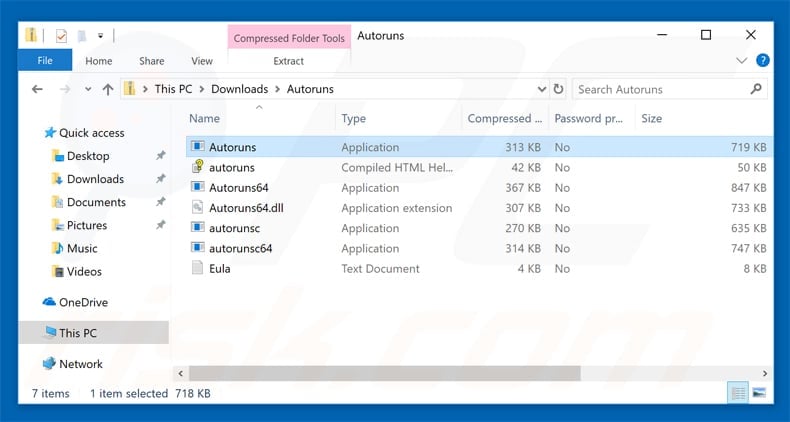 In the Autoruns application, click "Options" at the top and uncheck the "Hide Empty Locations" and "Hide Windows Entries" options. After this procedure, click the "Refresh" icon.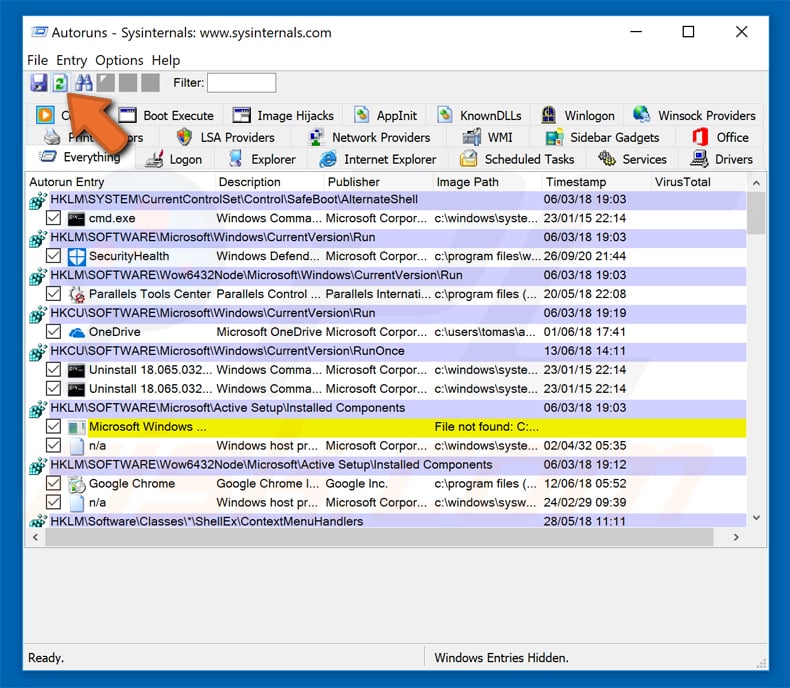 Check the list provided by the Autoruns application and locate the malware file that you want to eliminate.
You should write down its full path and name. Note that some malware hides process names under legitimate Windows process names. At this stage, it is very important to avoid removing system files. After you locate the suspicious program you wish to remove, right click your mouse over its name and choose "Delete".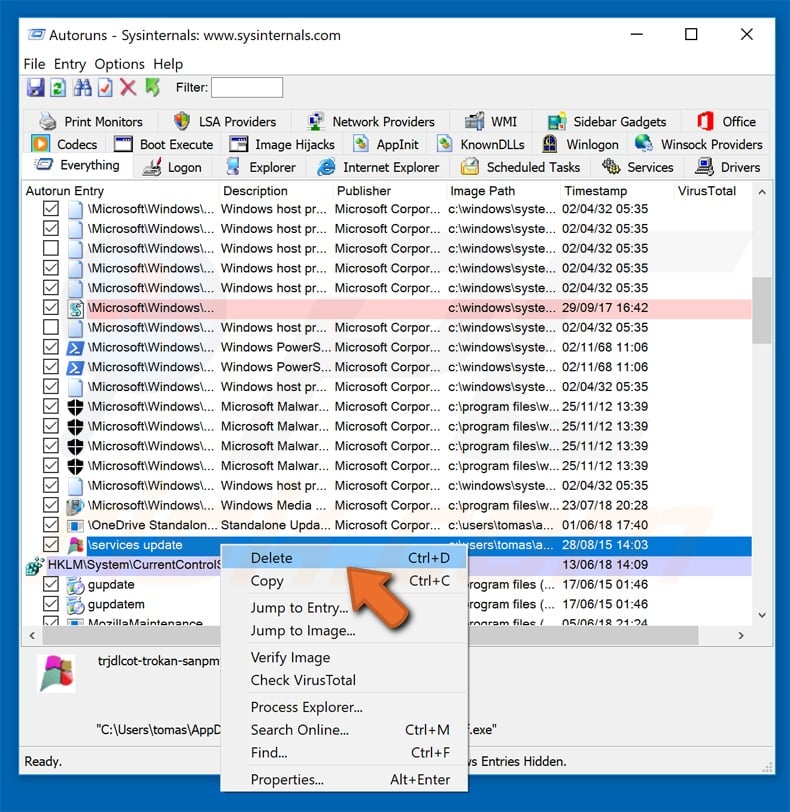 After removing the malware through the Autoruns application (this ensures that the malware will not run automatically on the next system startup), you should search for the malware name on your computer. Be sure to enable hidden files and folders before proceeding. If you find the filename of the malware, be sure to remove it.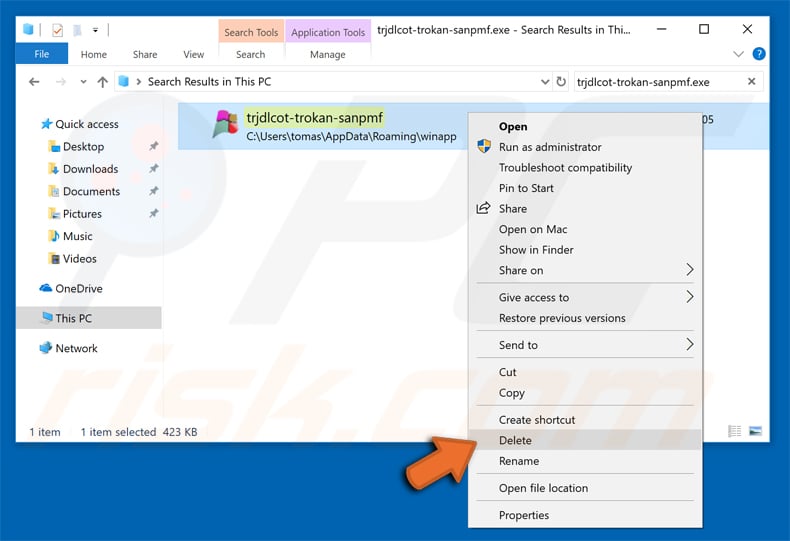 Reboot your computer in normal mode. Following these steps should remove any malware from your computer. Note that manual threat removal requires advanced computer skills. If you do not have these skills, leave malware removal to antivirus and anti-malware programs. These steps might not work with advanced malware infections. As always it is best to prevent infection than try to remove malware later. To keep your computer safe, install the latest operating system updates and use antivirus software.
To be sure your computer is free of malware infections, we recommend scanning it with Combo Cleaner Antivirus for Windows.