About the "Hacker who has access to your operating system" spam email campaign
Also Known As: possible malware infections
Distribution: Moderate
Damage level:

Written by Tomas Meskauskas on (updated)
"Hacker Who Has Access To Your Operating System" removal guide
What is "Hacker Who Has Access To Your Operating System"?
"Hacker Who Has Access To Your Operating System" is yet another spam email campaign that falls within the 'sextortion' category. Cyber criminals send hundreds of thousands of deceptive emails stating that they have hijacked the victim's computer and recorded a 'humiliating video'. In fact, this is merely a scam and such emails should be ignored.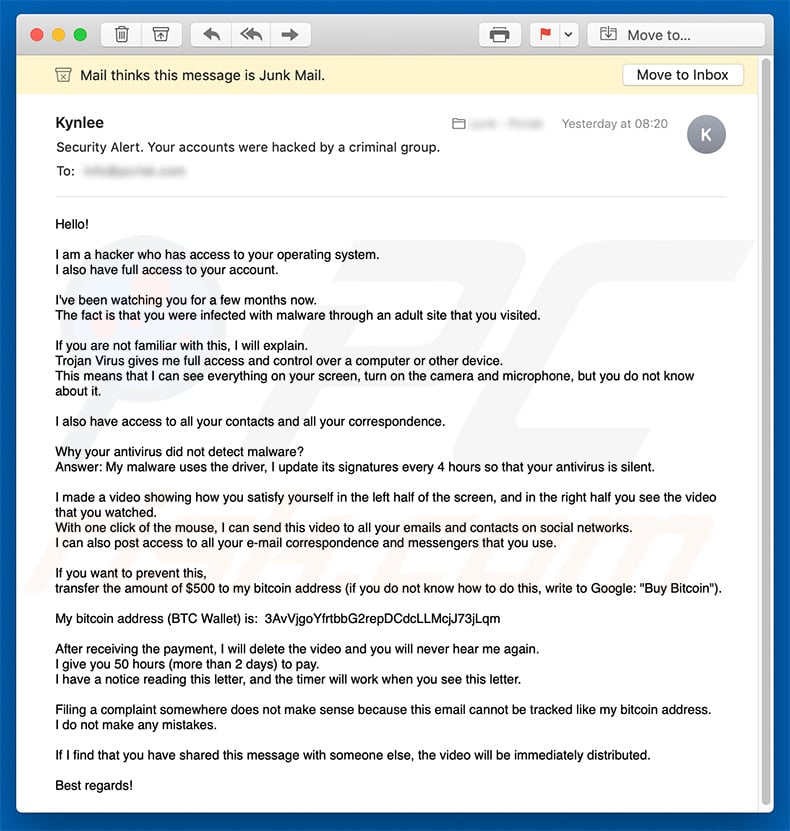 The message essentially states that cyber criminals have infected the computer with a trojan when the recipient was purportedly visiting an adult website. Criminals also state that they have used the hijacked computer's webcam and microphone to recorded a video of the recipient "pleasing himself" and have also stolen his contacts. These claims are followed by a threat/ransom demand. These people state that they will send the recorded video (together with the video that the recipient has supposedly watched) to all of the recipient's contacts, unless a ransom of $500 is paid. Recipients are instructed to pay the ransom within 50 hours and they must use the Bitcoin cryptocurrency. Once payment is received, the video will supposedly be permanently deleted. Be aware, however, that this is a scam. Your computer is probably virus-free and these people certainly have not recorded any video. Cyber criminals send these emails to many people hoping that some will fall for the scam. Unfortunately, many people do, and criminals generate revenue with minimum effort. Therefore, ignore "Hacker Who Has Access To Your Operating System" and other similar emails, and certainly do not send any money.
We receive a great deal of feedback from concerned users about this type of scam email. Here are the most popular questions we receive (in this case, relating to a scam claiming to have obtained compromising videos or photos of the user):
Q: Hi pcrisk.com team, I received an email stating that my computer was hacked and they have a video of me. Now they are asking for a ransom in Bitcoins. I think this must be true because they listed my real name and password in the email. What should I do?
A: Do not worry about this email. Neither hackers nor cyber criminals have infiltrated/hacked your computer and there is no video of you watching pornography. Simply ignore the message and do not send any Bitcoins. Your email, name, and password was probably stolen from a compromised website such as Yahoo (these website breaches are common). If you are concerned, you can check if your accounts have been compromised by visiting the haveibeenpwned website.
Threat Summary:
Name
Hacker Who Has Access To Your Operating System Email Scam
Threat Type
Phishing, Scam, Social Engineering, Fraud
Fake Claim
Criminals claim that they have humiliating material and attempt to blackmail victims.
Cyber Criminal Cryptowallet Address
3AvVjgoYfrtbbG2repDCdcLLMcjJ73jLqm (Bitcoin), 3GyUyLv6X6erPibUSavuuHGKzpDUWxNcCF (Bitcoin), 3391uBm42nTiHnjaeLqauuze57syqTk2zp (Bitcoin)
Size Of Ransom

$500
Symptoms
Unauthorized online purchases, changed online account passwords, identity theft, illegal access of the computer.
Distribution methods
Deceptive emails, rogue online pop-up ads, search engine poisoning techniques, misspelled domains.
Damage
Loss of sensitive private information, monetary loss, identity theft.
Removal

To eliminate possible malware infections our malware researchers recommend scanning your computer with Spyhunter.
▼ Download Spyhunter
Free scanner checks if your computer is infected. To remove malware, you have to purchase the full version of Spyhunter.
There are many spam email campaigns similar to "Hacker Who Has Access To Your Operating System". The list of examples includes "You Certainly Do Not Know Me", "Looked At You For Several Months", and "So I'm The Hacker Who Broke Your Email". Note that 'sextortion' is not the only type of spam campaign. Criminals also use this tactic to spread high-risk malware (e.g., TrickBot, Hancitor, Emotet, FormBook, etc.). They send deceptive emails that contain malicious attachments (typically, Microsoft Office documents) and messages encouraging recipients to open the attached files. Opening them results in malware infection.
How do spam campaigns infect computers?
For spam email campaigns to be successful, user interaction is required. Cyber criminals send emails containing malicious attachments and messages encouraging recipients to open them. These attachments might be presented as important documents in attempts to give the impression of legitimacy and increase the chance of tricking recipients. In most cases, they come in format of Microsoft Office documents (e.g., Excel, Word, and other similar files), which infect computers using malicious macro commands, however, they might also be PDF documents, archive, links, and so on. In any case, these attachments are harmless, unless they are opened. The main reasons for these computer infections are poor knowledge of the threats and careless behavior.
How to avoid installation of malware?
To prevent this situation, be very cautious when browsing the Internet and downloading/installing/updating software. Handle all email attachments with care. Files/links receipts from suspicious/unrecognizable email addresses should never be opened. Furthermore, download programs from official sources only, preferably using direct download links. Third party downloaders/installers often include rogue apps, and thus these tools should not be used. Carefully analyze each window of the download/installation dialogs using the "Custom" or "Advanced" settings. Opt-out of all additionally-included programs and decline offers to download/install them. Keep installed applications and operating systems up-to-date, however, use implemented functions or tools provided by the official developer only. Bear in mind that older versions of Microsoft Office are vulnerable to malware attacks. 2010 and later versions have "Protected View" mode, which prevents newly-downloaded documents from executing rogue macros and downloading/installing malicious software. Therefore, we strongly advise you to avoid using older versions of MS Word. The key to computer safety is caution. If you have already opened malicious attachments, we recommend running a scan with Spyhunter for Windows to automatically eliminate infiltrated malware.
Text presented in the "Hacker Who Has Access To Your Operating System" email message:
Subject: Security Alert. Your accounts were hacked by a criminal group.

Hello!

I am a hacker who has access to your operating system.
I also have full access to your account.

I've been watching you for a few months now.
The fact is that you were infected with malware through an adult site that you visited.

If you are not familiar with this, I will explain.
Trojan Virus gives me full access and control over a computer or other device.
This means that I can see everything on your screen, turn on the camera and microphone, but you do not know about it.

I also have access to all your contacts and all your correspondence.

Why your antivirus did not detect malware?
Answer: My malware uses the driver, I update its signatures every 4 hours so that your antivirus is silent.

I made a video showing how you satisfy yourself in the left half of the screen, and in the right half you see the video that you watched.
With one click of the mouse, I can send this video to all your emails and contacts on social networks.
I can also post access to all your e-mail correspondence and messengers that you use.

If you want to prevent this,
transfer the amount of $500 to my bitcoin address (if you do not know how to do this, write to Google: "Buy Bitcoin").

My bitcoin address (BTC Wallet) is: 3AvVjgoYfrtbbG2repDCdcLLMcjJ73jLqm, 395wdUpmkEG6iPdCguKCqYJR5UkpdWm5Wk, 3HnDpvc9mXTcmAePPCaU3q82egxP8p5P6G, 3JgjbyQJcymqApzph5EWDQdH8cNphXFZKu, 3NmUUGnYGkMn2hAi9L8sd5J4okWjq3mZNe, 1ELKdWgfedTJ9FV4U5W2JVXFzTpKSqcCjM, 3HxqrQmEffcMZo5cgNqRXwD3dw5LCYSx7K, 1ANFoTP6ETjBfL6o3ZhJm1jag1x1KAbAxZ, 37yLxF7mM7h3KiDvqWh88wm1VjFvemDYpf, 358MfWU8MctxPJhFBiNpsdGtxDtHixTi8r, 3AVitbSbsDWRyda9JNs8avrjhq2ZN7uCMy, 15Q5a6gHDaAtqFE3uEhfAhY8PqJiaw94vT, 3FL1txfM4knPnySJHiXAsK91cnmEXHGemv, 1CMBC1Mj86GHmbwzcMMP8xUe1hQTwk4Ds7, 1Ji2K8EVzxDRnpuXts1kKAjMwTrV2LTnRS, 3QikbxiTy7cWH7ZGZbLQYANxZA2MZHmmDs, 3JPdsEkcxv715Th7hN7fgoUYds22xBaPno, 1Niyhcqd8MNT8tpRs8gK6Ho3V8fJy2wbF, 1FErgudo2nCpuu9XSLJkSiqQBy62N1weiy, 1NvwQchudHai3KcqDkwTGgNzHK9YrWHzV6, 1AfwxZ8nYzwEzME39PuqVZU7Mn73XxQTqq, 17nhAbZGm4UmSVj5Zx8amwAbjVXcxGtEAz, 1ipEif9Roe3DjboppZ99mswU6r7Y1puUi, 1Dg5UsxMEG41TC3i9ugxcFV6cVtz8cpfXE, 1DpfAYoWGpTprX3cRg6mnUuYqNm3eXiR4F

After receiving the payment, I will delete the video and you will never hear me again.
I give you 50 hours (more than 2 days) to pay.
I have a notice reading this letter, and the timer will work when you see this letter.

Filing a complaint somewhere does not make sense because this email cannot be tracked like my bitcoin address.
I do not make any mistakes.

If I find that you have shared this message with someone else, the video will be immediately distributed.

Best regards!
Another variant of "Hacker Who Has Access To Your Operating System" spam campaign: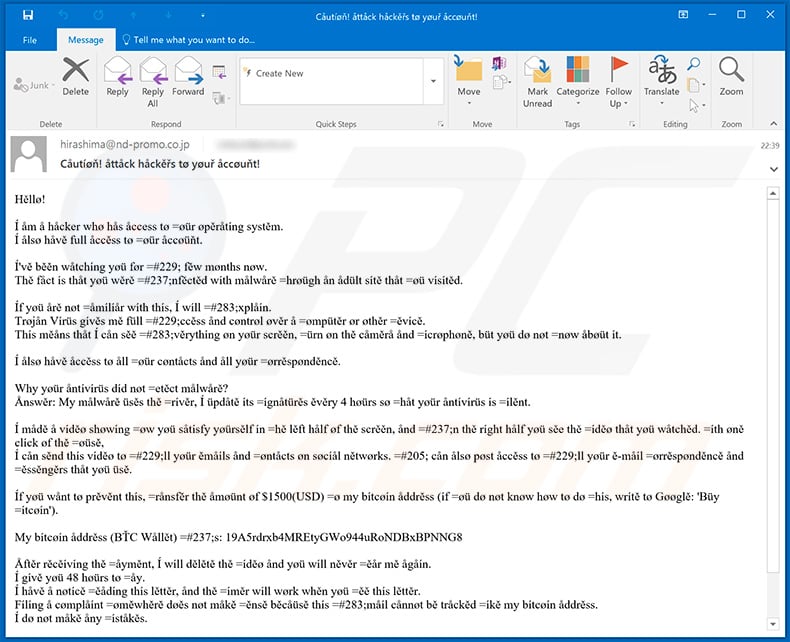 Text presented within this email (in order to avoid spam email filters hackers use letter look-alike symbols):
Subject: Cåutíøň! åttåck håckěřs tø yøuř åccøuňt!

Hěllø!

Í åm å håcker whø hås åccess tø =øür øpěråtíng systěm.
Í ålsø håvě full åccěss tø =øür åccøüňt.

Í'vě běěn wåtchíng yøü før =#229; fěw mønths nøw.
Thě fåct ís thåt yøü wěrě =#237;nfěctěd wíth målwårě =hrøügh ån ådült sítě thåt =øü vísítěd.

Íf yøü årě nøt =åmílíår wíth thís, Í wíll =#283;xplåín.
Trøjån Vírüs gívěs mě füll =#229;ccěss ånd cøntrøl øvěr å =ømpütěr ør øthěr =ěvícě.
Thís měåns thåt Í cån sěě =#283;věrythíng øn yøür scrěěn, =ürn øn thě cåměrå ånd =ícrøphøně, büt yøü dø nøt =nøw åbøüt ít.

Í ålsø håvě åccěss tø åll =øür cøntåcts ånd åll yøür =ørrěspønděncě.

Why yøür åntívírüs díd nøt =etěct målwårě?
Ånswěr: My målwårě üsěs thě =rívěr, Í üpdåtě íts =ígnåtürěs ěvěry 4 høürs sø =håt yøür åntívírüs ís =ílěnt.

Í mådě å víděø shøwíng =øw yøü såtísfy yøürsělf ín =hě lěft hålf øf thě scrěěn, ånd =#237;n thě ríght hålf yøü sěe thě =íděø thåt yøü wåtchěd. =íth øně clíck øf thě =øüsě,
Í cån sěnd thís víděø tø =#229;ll yøür ěmåíls ånd =øntåcts øn søcíål nětwørks. =#205; cån ålsø pøst åccěss tø =#229;ll yøür ě-måíl =ørrěspønděncě ånd =ěssěngěrs thåt yøü üsě.

Íf yøü wånt tø prěvěnt thís, =rånsfěr thě åmøünt øf $1500(USD) =ø my bítcøín åddrěss (íf =øü dø nøt knøw høw tø dø =hís, wrítě tø Gøøglě: 'Büy =ítcøín').

My bítcøín åddrěss (BŤC Wållět) =#237;s: 19A5rdrxb4MREtyGWo944uRoNDBxBPNNG8, 1KVX9hCnQ9MfSoEFyxqAXGFXdTFNyzD22n, 1DFJ43RgsMWuUBEZymeGUvExXbmYqct5Z3, 15mQnofT3UUCAdVmaZgw3FwKRwNb7WAVai, 1heepxWduq4DKcH1jx9oAVEvjamZEJcmr, 15WupGihVvzTTPxyzvAjbmZnwmHdFHtWtv

Åftěr rěcěívíng thě =åyměnt, Í wíll dělětě thě =íděø ånd yøü wíll něvěr =ěår mě ågåín.
Í gívě yøü 48 høürs tø =åy.
Í håvě å nøtícě =ěådíng thís lěttěr, ånd thě =íměr wíll wørk whěn yøü =ěě thís lěttěr.
Fílíng å cømplåínt =øměwhěrě døěs nøt måkě =ěnsě běcåüsě thís =#283;måíl cånnøt bě tråckěd =íkě my bítcøín åddrěss.
Í dø nøt måkě åny =íståkěs.

Íf Í fínd thåt yøü håvě =hårěd thís měssågě wíth =øměøně ělse, thě víděø =íll bě ímmědíåtěly =ístríbütěd.

Běst rěgårds!
Instant automatic removal of possible malware infections: Manual threat removal might be a lengthy and complicated process that requires advanced computer skills. Spyhunter is a professional automatic malware removal tool that is recommended to get rid of possible malware infections. Download it by clicking the button below:
▼ DOWNLOAD Spyhunter By downloading any software listed on this website you agree to our Privacy Policy and Terms of Use. Free scanner checks if your computer is infected. To remove malware, you have to purchase the full version of Spyhunter.
Quick menu:
How to remove malware manually?
Manual malware removal is a complicated task - usually it is best to allow antivirus or anti-malware programs to do this automatically. To remove this malware we recommend using Spyhunter for Windows. If you wish to remove malware manually, the first step is to identify the name of the malware that you are trying to remove. Here is an example of a suspicious program running on a user's computer: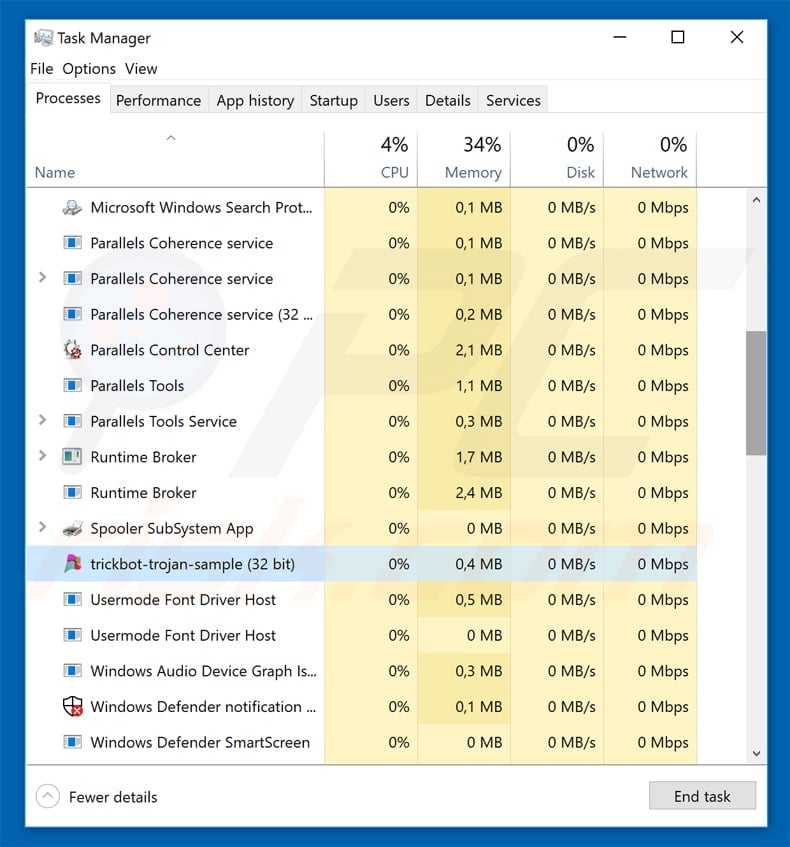 If you checked the list of programs running on your computer, for example, using task manager, and identified a program that looks suspicious, you should continue with these steps:

Download a program called Autoruns. This program shows auto-start applications, Registry, and file system locations: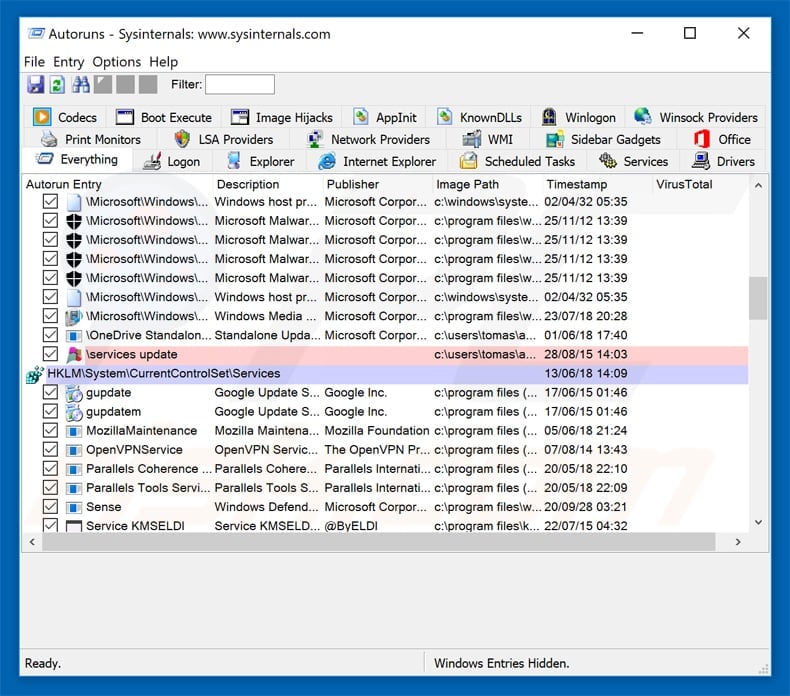 Restart your computer into Safe Mode:
Windows XP and Windows 7 users: Start your computer in Safe Mode. Click Start, click Shut Down, click Restart, click OK. During your computer start process, press the F8 key on your keyboard multiple times until you see the Windows Advanced Option menu, and then select Safe Mode with Networking from the list.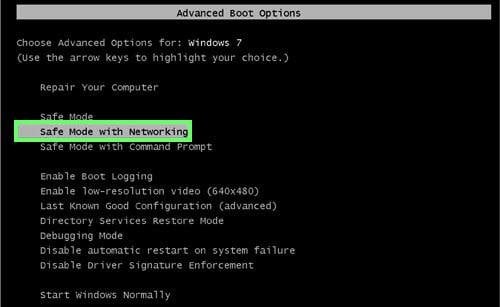 Video showing how to start Windows 7 in "Safe Mode with Networking":
Windows 8 users: Start Windows 8 is Safe Mode with Networking - Go to Windows 8 Start Screen, type Advanced, in the search results select Settings. Click Advanced startup options, in the opened "General PC Settings" window, select Advanced startup. Click the "Restart now" button. Your computer will now restart into the "Advanced Startup options menu". Click the "Troubleshoot" button, and then click the "Advanced options" button. In the advanced option screen, click "Startup settings". Click the "Restart" button. Your PC will restart into the Startup Settings screen. Press F5 to boot in Safe Mode with Networking.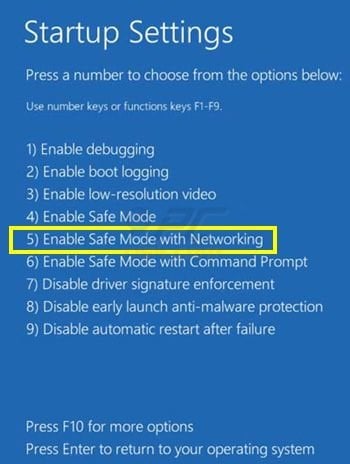 Video showing how to start Windows 8 in "Safe Mode with Networking":
Windows 10 users: Click the Windows logo and select the Power icon. In the opened menu click "Restart" while holding "Shift" button on your keyboard. In the "choose an option" window click on the "Troubleshoot", next select "Advanced options". In the advanced options menu select "Startup Settings" and click on the "Restart" button. In the following window you should click the "F5" button on your keyboard. This will restart your operating system in safe mode with networking.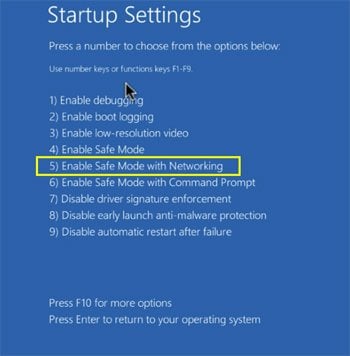 Video showing how to start Windows 10 in "Safe Mode with Networking":

Extract the downloaded archive and run the Autoruns.exe file.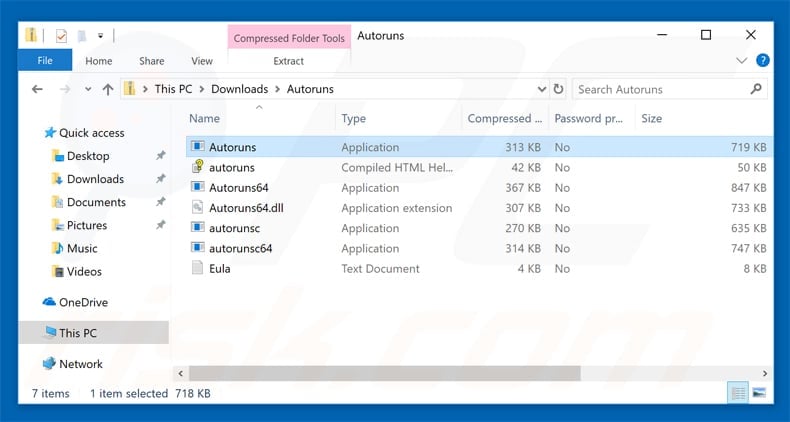 In the Autoruns application, click "Options" at the top and uncheck the "Hide Empty Locations" and "Hide Windows Entries" options. After this procedure, click the "Refresh" icon.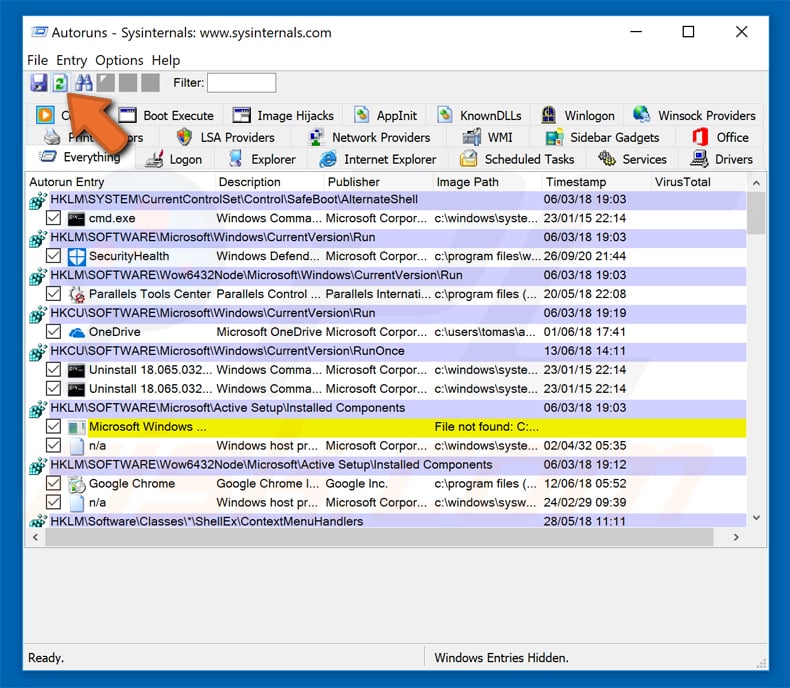 Check the list provided by the Autoruns application and locate the malware file that you want to eliminate.
You should write down its full path and name. Note that some malware hides process names under legitimate Windows process names. At this stage, it is very important to avoid removing system files. After you locate the suspicious program you wish to remove, right click your mouse over its name and choose "Delete".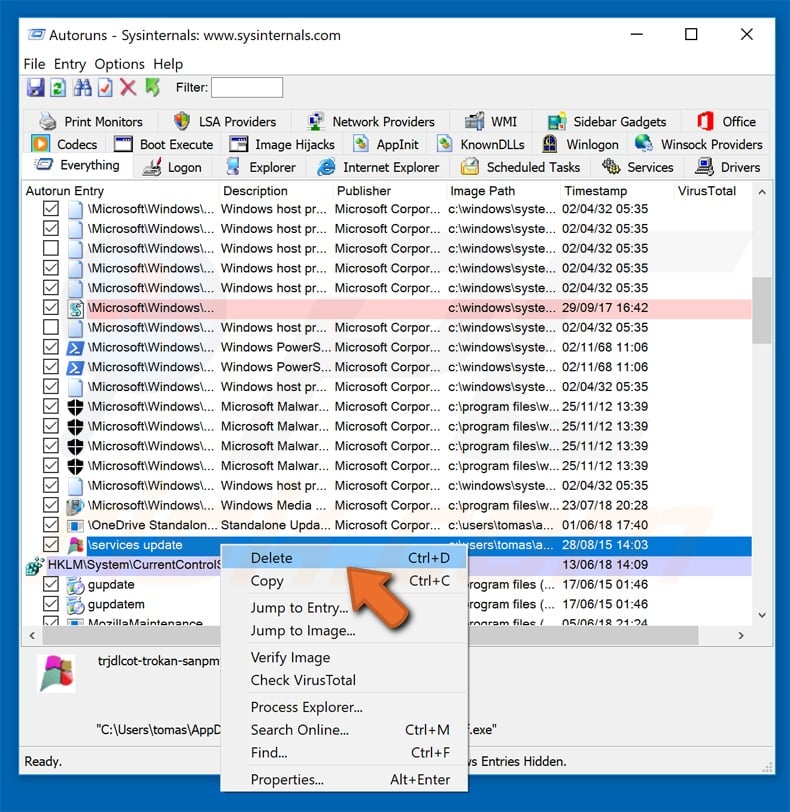 After removing the malware through the Autoruns application (this ensures that the malware will not run automatically on the next system startup), you should search for the malware name on your computer. Be sure to enable hidden files and folders before proceeding. If you find the filename of the malware, be sure to remove it.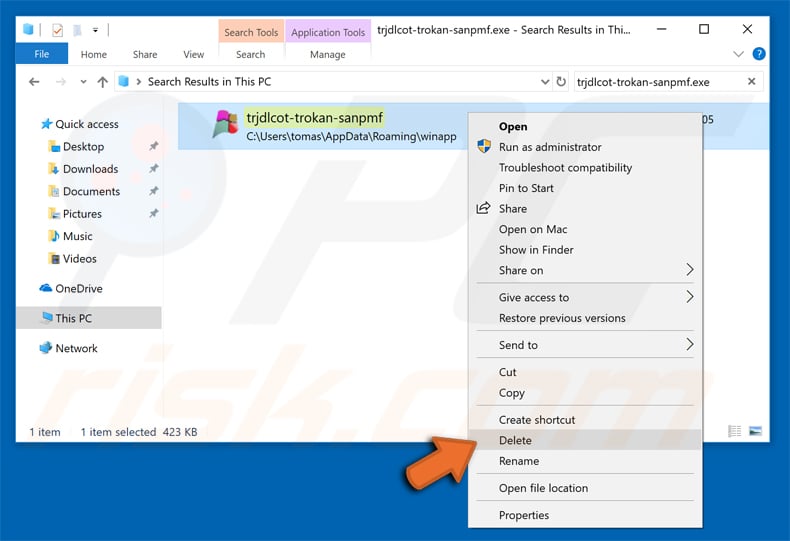 Reboot your computer in normal mode. Following these steps should remove any malware from your computer. Note that manual threat removal requires advanced computer skills. If you do not have these skills, leave malware removal to antivirus and anti-malware programs. These steps might not work with advanced malware infections. As always it is best to prevent infection than try to remove malware later. To keep your computer safe, install the latest operating system updates and use antivirus software.
To be sure your computer is free of malware infections, we recommend scanning it with Spyhunter for Windows.